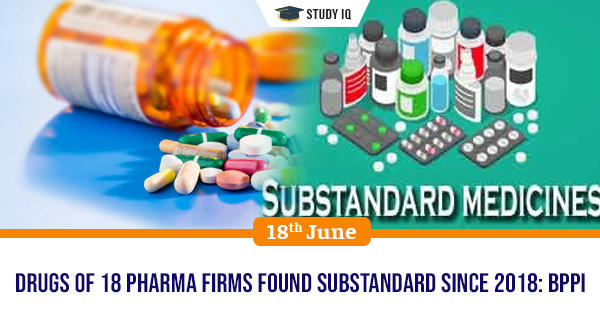 Drugs of 18 pharma firms found substandard since 2018: BPPI
Date: 18 June 2019
Tags: Ministries & Departments
Bureau of Pharma PSUs of India (BPPI) has found 25 batches of drugs from 18 pharmaceutical companies of substandard quality since January 2018. Of these 18 companies, 17 are private, one is a public sector unit (PSU). Of these, seven companies have been blacklisted for two years i.e. they are barred from supplying generic drugs to Janaushadhi scheme.
About Bureau of Pharma PSUs of India (BPPI)
It implements the Centre's flagship affordable medicine scheme the Pradhan Mantri Janaushadhi Pariyojana (PMBJP).

It is the implementing agency of Centre's flagship affordable medicine schem- Pradhan Mantri Janaushadhi Pariyojana (PMBJP).

It was established in December, 2008. It functions under Department of Pharmaceuticals, Union Ministry of Chemicals and Fertilizers.

It has been registered as independent society underSocieties Registration Act, 1860 as a separate independent legal entity.

Functions:

It is primarily engaged in coordinating marketing of generic drugs through Jan Aushadhi stores and sourcing of medicines from Pharma CPSUs and Private Sector. It also manages supply chain and ensures proper running of Jan Aushadhi stores.

Procurement and Distribution process:

Once BPPI procures affordable generic drugs from pharmaceutical companies, they are then supplied to various Janaushadhi Kendras that are managed under the PMBJP. There are 4,677 Janaushadhi Kendras functional in the country, as on December 2018.
Pradhan Mantri Bhartiya Janaushadhi Pariyojana (PMBJP): It is flagship scheme launched by the Department of Pharmaceuticals to provide quality medicines at affordable prices to the masses.Jan Aushadhi stores have been set up to provide generic drugs.
Generic drug: It is copy of drug medication created to be same as an already marketed brand-name drug. It equals in dosage form, strength, route of administration, quality, safety, performance characteristics and intended use. Once patent of branded drugs has expired, companies other than original manufacturer can produce and sell drug. This usually results in significant reduction in costs. These off-patent drugs are called generics.