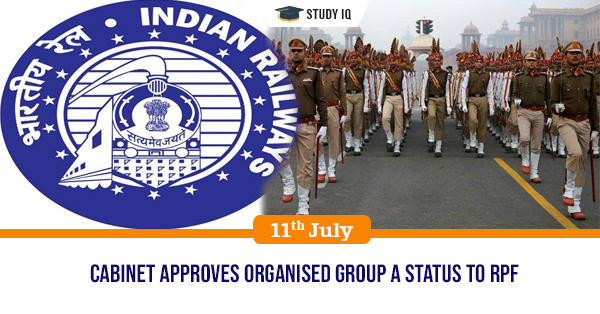 Cabinet approves organised Group A status to RPF
Date: 11 July 2019
Tags: Ministries & Departments
Union Cabinet chaired by Prime Minister Narendra Modi has approved Grant of Organised Group 'A' status to Indian Railway Protection Force (RPF). It also approved consequential benefits of Non-Functional Financial Upgradation (NFFU) with effect from January 2006 and Non-Functional Selection Grade (NFSG) at 30% of Senior Duty Post (SDP) with effect June .2000, as per Department of Personnel and Training (DopT) guidelines 2009 and 2000 respectively.
Impact: Grant of Organized Group 'A' service status to RPF will end stagnation, improve career progression of the officers and keep up their motivational level.
Background: Delhi High Court in 201o had directed Railways to grant Group 'A' Service status to RPF. Same was upheld by Supreme Court in 2019. Accordingly, Railway Board had proposed for grant of Organised Group 'A' Service status to RPF.
About Railway Protection Force (RPF)
It is security force entrusted with protecting railway passengers, passenger area and railway property of the Indian Railways.

It was established in 1957 through Railway Protection Force Act, 1957 (thus statutory body) enacted by Parliament. It had replaced erstwhile Railway Security Force (RSF). In 1980s it was transformed into 'Armed Force of Union' with enhanced powers.

Functions:

It has the primary duty of protection of railway property, passenger area, and passengers. It also has powers to arrest, investigate and prosecute criminals under its jurisdiction.

Administration:

It is under the control of Union Ministry of Railways. It is headed by Director General (DG).

Note:

RPF is not responsible for all security aspects of railways as it shares its duties with Government Railway Police (GRP) and District Police.