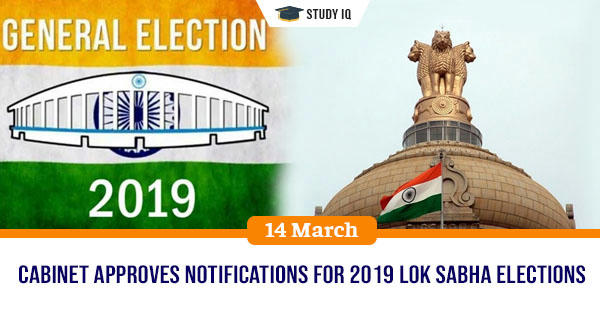 Cabinet approves notifications for 2019 Lok Sabha Elections
Date: 14 March 2019
Tags: Constitution, Ministries & Departments
Union Cabinet chaired by Prime Minister Narendra Modi has approved issuance of statutory notifications for General Elections to Lok Sabha 2019. These notifications were notified under sub-section (2) of Section 14 of Representation of the People Act (RPA), 1951. The issuing of notifications will begin election process for constituting the Seventeenth House of the People.
Sub-Section (2) of Section 14 of RPA, 1951
It provides statutory and legal backing for calling upon parliamentary constituencies to elect Members to Lok Sabha (House of the People), on dates to be recommended by Election Commission of India (ECI) in its proceedings.
Representation of the People Act (RPA), 1951
It was enacted by provincial parliament in exercise of powers enshrined to it under Article 324 to 329 of Part XV of the Constitution.

It provides for actual conduct of elections in India. It also deals with details like qualification and disqualification of members of both houses of Parliament (ie Loksabha and Rajyasabha) and state legislatures (ie. State Legislative Assembly and State Legislative Council).

Election Commission make rules for conducting of various elections under this Act.