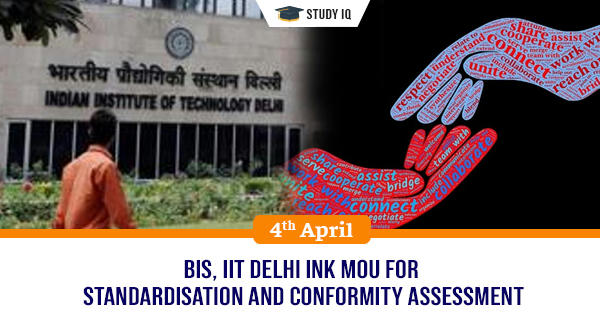 BIS, IIT Delhi ink MoU for standardisation and conformity assessment
Date: 04 April 2019
Tags: Ministries & Departments
Bureau of Indian Standards (BIS) has signed Memorandum of Understanding (MoU) with Indian Institute of Technology (IIT) Delhi to collaborate in the field of standardisation and conformity assessment. This partnership is aimed at making the process of standardization more effective.
Under this MoU
Centre of Excellence in field of standardization, testing and conformity assessment will be set up.

IIT Delhi will provide infrastructure support for R&D projects of relevance to standardisation and BIS will provide financial support to IIT Delhi for projects.

Both institutions will jointly organise training and short-term education programmes on standardisation and conformity assessment.

They will also explore possibility of using laboratory facilities available at IIT Delhi for catering to the requirements of various conformity assessment schemes of the BIS.

Initially, the MoU will remain in force for period of five years and can be extended further.
Bureau of Indian Standards (BIS)
It is national standard body of India established under BIS Act, 1986. It functions under the aegis of Ministry of Consumer Affairs, Food & Public Distribution. It is headquartered at New Delhi.

Its mandate is harmonizing development of activities of standardization, marking and quality certification of goods and for matters connected.

It provides numerous benefits to national economy by providing safe reliable quality goods, promoting exports and imports substitute, minimizing health hazards to consumers, control over proliferation of varieties etc. through standardization, certification and testing.

It is involved in various activities such as standards formulation, compulsory registration scheme, product certification scheme, hall marking scheme, foreign manufacturers certification scheme, laboratory services, laboratory recognition scheme, sale of Indian standards, consumer affairs activities, promotional activities, training services, national & international level and information services.