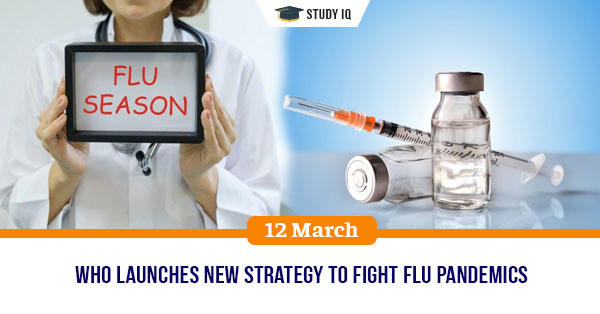 WHO launches new strategy to fight flu pandemics
Date: 12 March 2019
Tags: Military
World Health Organization (WHO) launched new strategy to protect people worldwide over next decade against threat of influenza, warning that new pandemics are inevitable. Its new strategy aims to prevent seasonal influenza, control virus's spread from animals to humans and prepare for next pandemic. It will be for period from 2019 to 2030.
WHO's new strategy 2019 to 2030
It calls for every country to strengthen routine health programmes and to develop tailor-made influenza programmes that strengthen disease surveillance, response, prevention, control, and preparedness.

It recommends annual flu vaccines as most effective way to prevent spread of disease, especially for healthcare workers and people at higher risk of influenza complications.

It also calls for development of more effective and more accessible vaccines and antiviral treatments. It calls for regular updating of vaccine formulas due to mutating strains of influenza.

It urges broader use of seasonal vaccines, which not only protect vulnerable populations but also help prepare countries to rapidly deploy vaccines in the case of a pandemic.

Under it, WHO will expand partnerships to increase research, innovation and availability of new and improved vaccines and other tools to fight influenza.

It will also have benefits beyond fight against influenza, since it will also increase detection of other infectuous diseases including Ebola.
Background
According to WHO, Influenza epidemics, largely seasonal, affect around one billion people and kill hundreds of thousands annually. It describes it as one of the world's greatest public health challenges. The world has suffered through number of devastating influenzas pandemics, including Spanish Flu, which in 1918 killed millions of people globally. After that three pandemics have occurred since—in 1957, 1968 and in 2009—when H1N1 swine flu pandemic claimed around 18,500 lives in 214 countries.