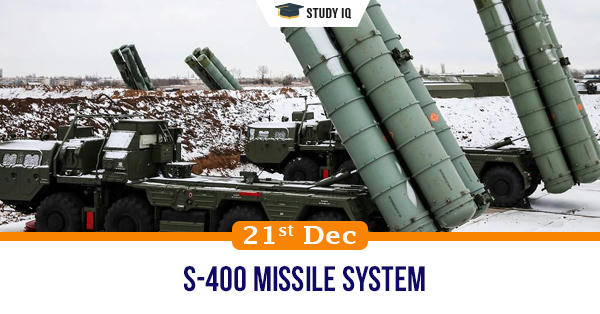 S-400 missile system
Date: 21 December 2020
Tags: Military
Issue
After sanctions imposed on Turkey, India is keenly looking at the steps taken by the US administration as it readies itself to welcome the weapon system.
Background
The US has imposed sanctions on Russia under CAATSA for its actions in Crimea. By making transactions with Russia, Turkey has invited the wrath of US administration.
Details
The S-400 Triumph (NATO name: SA-21 Growler) is an air defence missile system developed by Almaz Central Design Bureau of Russia.

The new system replaced the S-300P and S-200 air defence systems of the Russian Army.The S-400 was developed as an upgrade of the S-300 series of surface-to-air missile systems.

The S-400 Triumph air defence system integrates multifunction radar, autonomous detection and targeting systems, anti-aircraft missile systems, launchers, and command and control centre. It is capable of firing three types of missiles to create a layered defence.

The system can engage all types of aerial targets, including aircraft, unmanned aerial vehicles (UAV), and ballistic and cruise missiles, within the range of 400km at an altitude of up to 30km. The system can simultaneously engage 36 targets.

The S-400 is twice as effective as the previous Russian air defence systems and can be deployed within five minutes. It can also be integrated into the existing and future air defence units of the airforce, army and navy.

India and Russia signed an Inter-governmental Agreement (IGA) for the supply of five S-400 regiments. The US$5.43 billion deal was formally signed on 5 October 2018, ignoring threat of US sanctions.

The deliveries are expected to commence by the end of 2020 and brought into service in October 2020.

The United States threatened India with sanctions over India's decision to buy the S-400 missile defence system from Russia because India chose S-400 over American origin Patriot PAC 3.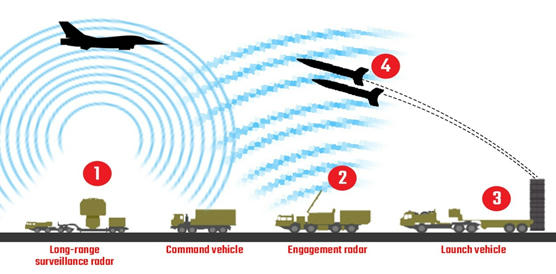 Patriot PAC-3
Patriot (MIM-104) is a long-range, all-altitude, all-weather air defence system to counter tactical ballistic missiles, cruise missiles and advanced aircraft.

Patriot is in service throughout the US, Germany, Greece, Israel, Japan, Kuwait, the Netherlands, Saudi Arabia, Korea, Poland, Sweden, Qatar, the United Arab Emirates, Romania, Spain and Taiwan.

The missile has a range of 70km and a maximum altitude greater than 24km. The minimum flight time is less than nine seconds and the maximum is three and a half minutes.