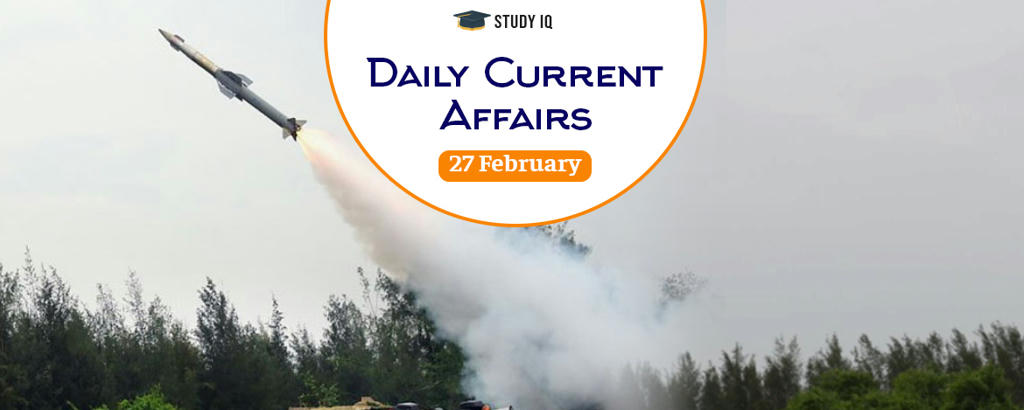 Quick Reaction Surface-to-Air Missile successfully test fired
Date: 27 February 2019
Tags: Military
Defence Research and Development Organisation (DRDO) successfully test fired indigenously developed Quick Reach Surface-to-Air missiles (QRSAM) from Integrated Test Range (ITR), Chandipur, off the Odisha Coast.
In this test, two missiles were tested for different altitude and conditions. They were fired from canister mounted on rotatable truck-based launch unit positioned at launching complex-III of ITR. All the mission objectives have been met in this test.
Quick Reach Surface-to-Air missiles (QRSAM)
It is next-generation sleek short-range air defence system. It is highly mobile air defence system which can destroy multiple targets at distance upto 30 km.

It has been indigenously developed by DRDO. Its development was sanctioned in 2014, the missile was first tested in 2017.

It is an all-weather and all-terrain missile with electronic counter measures against jamming by aircraft radars. It has strike range of 30kms.

It can be mounted on truck and is stored in canister. It employs dual thrust propulsion stage using high-energy solid propellant.

It is capable of tracking and destroying aerial targets, fighter aircraft, short range and cruise missiles.

It has 100% kill probability and can deceive enemy radars making it difficult to be detected.

Once inducted, it will be deployed at border and is expected to supplement surface-to-air missile Akash. It will significantly boost defence capabilities of armed forces.