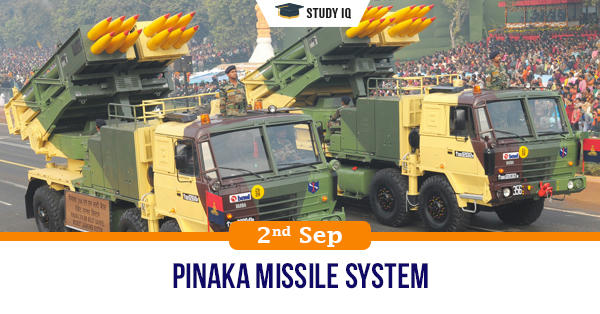 Pinaka missile system
Date: 02 September 2020
Tags: Military
Issue
The Ministry of Defence (MoD) has announced that it had signed contracts with three Indian companies for supply of six regiments of the Pinaka Rocket System to be deployed along borders with Pakistan and China.
Background
At the time when India is facing hostilities on both fronts, the announcement enhancing the long range artillery capabilities can be looked as a strong signal to the adversaries.
Details
In the battlefield, long range artillery systems like Pinaka are used for attacking the adversary targets prior to the close quarter battles which involve smaller range artillery, armoured elements and the infantry.

The development of the Pinaka was started by the Defence Research and Development Organisation (DRDO) in the late 1980s, as an alternative to the multi-barrel rocket launching systems of Russian make, called like the 'Grad', which are still in use.

After successful tests of Pinaka Mark-1 in the late 1990, it was first used in the battlefield during the Kargil War of 1999, quite successfully. Subsequently multiple regiments of the system came up over the 2000s.

One battery of Pinaka system consists of six launch vehicles, accompanied by the loader systems, radar and links with network based systems and a command post.

One battery can neutralise an area one kilometre by one kilometre. As a key tactic of long range artillery battle, the launchers have to 'shoot and scoot' to ensure they themselves do not become the targets, especially due to its back blast.

The Mark-I version of Pinaka has a range of around 40 kilometres and the Mark-II version can fire up to 75 kilometres.

The Mark-II version of the rocket has been modified as a guided missile system by integrating it with the navigation, control and guidance system to improve the end accuracy and increase the range.

The navigation system of the missile is linked with the Indian Regional Navigation Satellite System. Pinaka Mark-II can be a key element in the "network centric warfare". The rocket system can operate various modes and can carry different types of warheads.