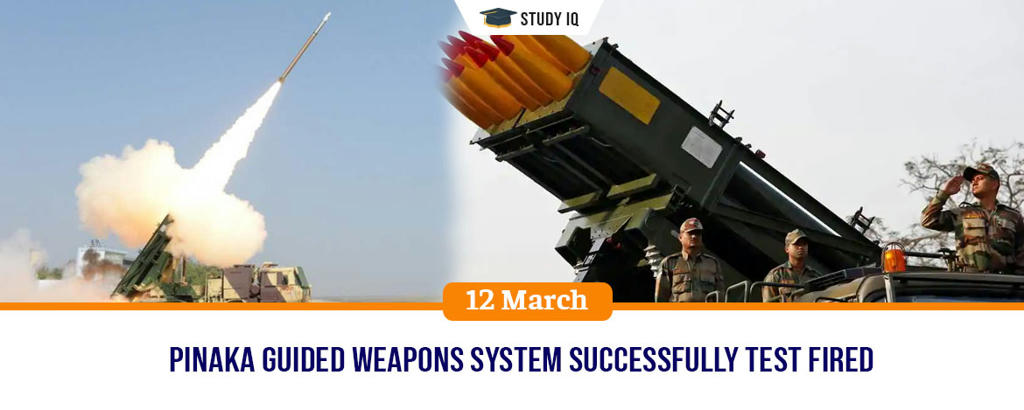 Pinaka guided weapons system successfully test fired
Date: 12 March 2019
Tags: Military
Defence Research and Development organisation (DRDO) successfully test fired indigenously developed PINAKA guided WEAPON rocket system (Pinaka Mark II) from Pokhran range in Rajasthan. During the test, the weapon systems impacted intended targets with high precision and achieved desired mission objective with high accuracies. It will significantly boost capability of the artillery to make precision hits.
PINAKA guided WEAPON rocket system
It is also dubbed as Pinaka Mark II. It is upgraded version of unguided Pinaka Mark-I rocket system. It is named after Pinaka, the bow of Lord Shiva.

It is jointly developed by Armament Research & Development Establishment (ARDE), Pune and Defence Research and Development Laboratory (DRDL), Hyderabad and Research Centre, Imarat (RCI).

It is equipped with state-of-the-art guidance kit comprising of advanced navigation and control system.

It is fired using multi-barrel rocket launcher (MBRL) which can fire 12 Rockets loaded with explosives within 44 seconds and destroy target area of 4 sq km at a time.

Being guided version, it has considerably enhanced range and accuracy (estimated to be between 60m-80m at all ranges) as compared to unguided one.

It has capability to incorporate several types of conventional warheads makes it deadly for enemy as it can even destroy solid structures and bunkers.

Its quick reaction time and high rate of fire gives it edge for armed forces using it during low amount conflict situation.

It already has been inducted into Indian Army in large numbers. Its earlier version was used during Kargil War and had demonstrated high efficacy by successfully neutralising enemy positions on the mountain tops.