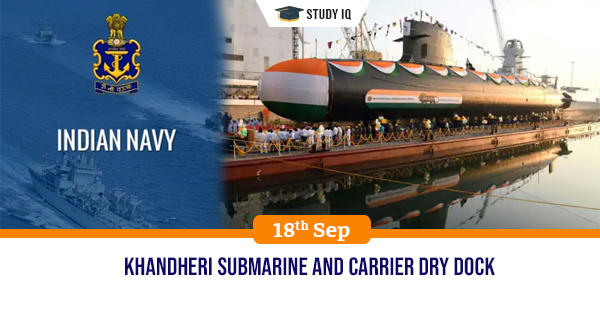 Khandheri submarine and carrier dry dock
Date: 18 September 2019
Tags: Military
Issue
The Indian Navy is set to induct second Scorpene submarine Khanderi on September 28 in Mumbai and the commissioning of the largest dry dock of the Indian Navy.
Background
INS Khanderi (2017) is the second of the Indian Navy's six Kalvari-class submarines being built in India. It is a diesel-electric attack submarine which is designed by French naval defence and energy company DCNS and being manufactured at Mazagon Dock Limited in Mumbai.
Details
Khanderi was launched into the water in January 2017 and has since been undergoing a series of trials.

The first submarine of class Kalvari joined service in December 2017. The entire project is expected to be completed by 2020.

The third Scorpene-class submarine INS Karanj is in the advanced stages of its trials.

The fourth submarine which is under construction at MDL and named `Vela' had touched waters after completing its outfittings. And, the last two of the Scorpene-class – Vagir and Vagsheer submarines are under construction at the MDL.

The entire process of constructing indegenous submarines were part of Indian navy's Project 75.
Scorpene class Submarines
The state-of-the-art submarine has superior stealth. It has the ability to launch a crippling attack on the enemy using precision-guided weapon.

It has the capability to be launched in anti-surface warfare, and anti-submarine warfare.

It can be used for intelligence gathering, mine laying, and area surveillance.

This special steel ensures that the warship can withstand high yield stress. And this allows it to dive deeper.

The submarine has the capability to operate at a depth of 300 meters underwater and travel 1,020 km underwater.

It has the provision to carry 18 torpedoes and tube-launched anti-ship missiles underwater and also from the surface.