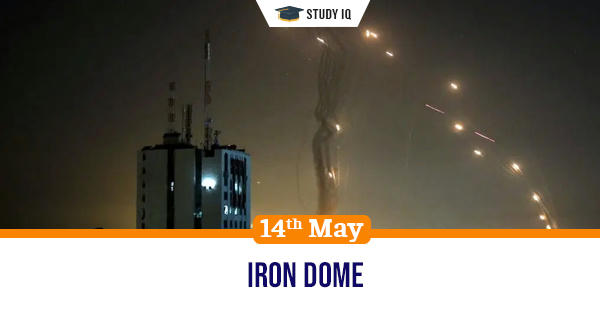 Iron Dome
Date: 14 May 2021
Tags: Military
Issue
The missiles fired by Palestinian terrorists from Gaza strip were intercepted by Israel's Iron Dome air defence system.
Background
Israel and Palestine have been indulged in serious conflict that has resulted in citizen fatality from both the sides. Missiles and air strikes have been taking place regularly.
Details
Iron Dome is an air defence system that works for short-range, ground-to-air targets. The system includes radar and Tamir interceptor missile that identifies and tracks missiles launched towards Israeli targets.

The system is suitable for countering arsenal such as artillery, mortars, rockets as well as helicopters, aircrafts and UAVs.
Development
The system was developed during the 2006 Israel-Lebanon war that resulted in damages to Israeli infrastructure and civilians.

Israel's state-run Rafael Advance Systems collaborated with Rafael Aerospace Industries to develop this air defence system.

The company claims that it has a success rate of 90 percent in identifying and destroying inbound targets. Experts however determine that its success rate is well above 80 percent.
Working
The system is made up of three components that together work for protecting assets. The detection radar tracks and identifies incoming targets.

The missile firing unit fires weapon at the incoming missiles. The battle management and weapon control system (BMC) acts as an interface between two systems.

The system can be used in all conditions of the year. They can be deployed during day as well as night time.
India's air defence system
India is in the process of acquiring the S-400 missile system from Russia. The Iron Dome was also in consideration during the buying process.

The S-400 also provides the same type of security but its range is greater than Iron Dome. To cater to a large area, India needs systems with larger range.

India is also planning to procure National Advanced Surface to Air Missile System-II from the United States to protect New Delhi.