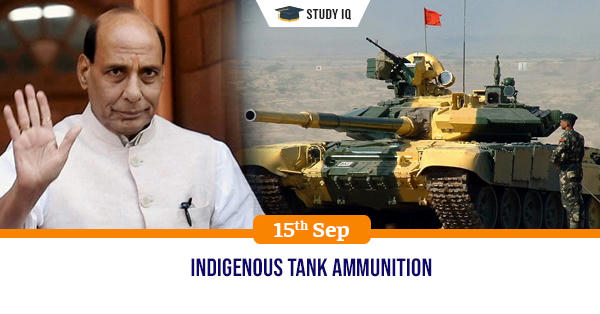 Indigenous Tank Ammunition
Date: 15 September 2019
Tags: Military
Issue
The Defence Acquisition Council (DAC), chaired by Defence Minister Rajnath Singh, has approved indigenous development of ammunition for the Army's T-72 and T-90 tanks,which would enhance the enemy armour penetration capability.
Background
Indian Army is in the process of buying 464 T-90MS Main Battle Tanks to arm 10 armoured regiments from Russia. This can produce significant gains for the armed forces.
Details
T-90 MS Tanks
The T-90MS tank is equipped with a new turret weapon station with an upgraded 125mm gun.

The tanks also sport an advanced and highly automated digital fire control system (FCS) to annihilate enemy tanks, self-propelled guns and other armoured targets.

The crew can detect, identify and destroy the targets during the day as well as night much more accurately with the help of FCS.

It also has a guided missile system which can destroy armoured targets including those equipped with explosive reactive armour (ERA) and has a ranges up to 5 kilometres.

The tank comes equipped with a protection system to insulate and help its crew operate in a Nuclear-Biological-Chemical attack environment.