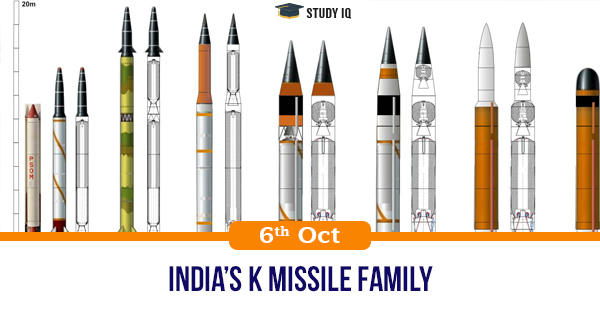 India's K missile family
Date: 06 October 2020
Tags: Military
Issue
A successful trial of the nuclear capable Shaurya missile was conducted by India. Shaurya is a land-based parallel of the submarine launched K-15 missile.
Background
These ballistic weapons belong to the K missile family, codenamed after late Dr APJ Abdul Kalam, which are launched from Arihant class of nuclear submarines.
Details
The K family of missiles are primarily Submarine Launched Ballistic Missiles (SLBMs), which have been indigenously developed by Defence Research and Development Organisation (DRDO) and are named after Dr Kalam.

The development of these naval platform launched missiles began in the late 1990s as a step towards completing India's nuclear triad — the capability of launching nuclear weapons from land, sea, and air based assets.

Because these missiles are to be launched from submarines, they are lighter, smaller and stealthier than their land-based counterparts, the Agni series of missiles which are medium and intercontinental range nuclear capable ballistic missiles.

While K family are primarily submarine-fired missiles to be fired from India's Arihant class nuclear powered platforms, the land and air variants of some of its members have also been developed by the DRDO.

Shaurya is a land variant of short range SLBM K-15 Sagarika, which has a range of at least 750 km.

India has also developed and successfully tested multiple times the K-4 missiles from the family which has a range of 3500 km.

The sea-based underwater nuclear capable assets significantly increases the second strike capability of a country and thus boosts its nuclear deterrence.

These submarines can not only survive a first strike by the adversary but also can launch a strike in retaliation thus achieving Credible Nuclear Deterrence.