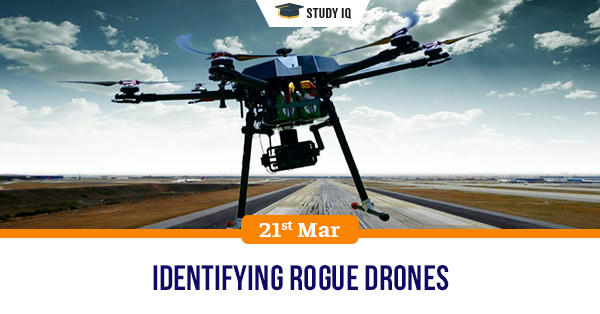 Identifying rogue drones
Date: 21 March 2020
Tags: Military
Issue
IIT-Madras researchers have developed an electronic warfare model that could help the Armed Forces track down unregulated drones and secure air space.
Background
A 2019 report states that India reported over six lakh rogue drones of varying size and capacity, of which most of them were termed "potential threat".
Details
Ideally, law enforcement drones are used by Defence Forces and Intelligence Agencies for surveillance and rescue operations among other things. This is an electronic warfare model that could help the Armed Forces secure air spaces and track down unregulated drones.

It 'hacks' into rogue drones and sends false GPS signals for communication. The target drone's GPS sensor would lock onto their fake radio station, which transmits signals at a much higher rate than the available one.

In doing so, the drone generates fake GPS packets that are received by the enemy, thereby calibrating the rogue drones' latitude and longitude positions, when it enters the airspace.

The drone will act as a GPS satellite. The rogue drone would think it is a legit source and would begin to communicate from this radio station. By this operation, we can change its latitude, longitude and altitude, and force them to land safely.
The biggest advantage of the prototype lies in its ability to operate beyond the line of sight control, the upper limit being 400 feet altitude for drone operations. It can also intercept phone calls at 250 feet above ground level.