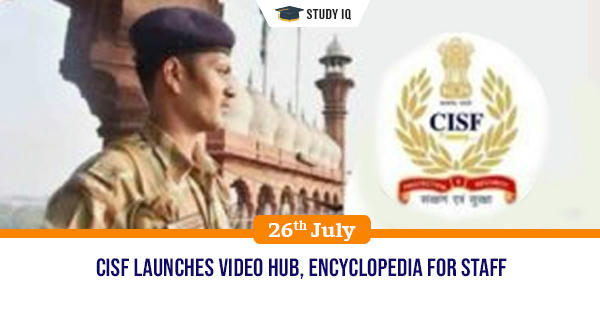 CISF launches Video Hub, encyclopedia for staff
Date: 26 July 2019
Tags: Military
Central Industrial Security Force (CISF) has launched Securitypedia (online encyclopedia) and CISF Tube (customised video interface) for its personnel. These online digital initiatives are aimed at updating and empowering CISF personnel about security related issues, best practices in forces and latest technologies available across the world.
Securitypedia: It is portal (website) on the lines of Wikipedia. It incorporates wide gamut of security related practices across the globe. It is dyamic website containing data archives and allows force member can contribute by writing blogs on relevant professional issues. Moreover, just like Wikipedia, any member can post information or edit articles after citing authentic and verifiable sources.
CISF Tube: It is customised video interface on the lines of YouTube. It will serve as online video database of all videos relevant to CISF. The videos available on this platform will enable CISF personnel to learn on various subjects related to their functioning
About Central Industrial Security Force (CISF)
It is central armed police force under Ministry of Home Affairs. It is headquarters are at New Delhi. Its motto is "Protection and Security".

It was raised in 1969 under CISF Act, 1968 to protect major PSUs. Later it was converted to armed force with larger ambit by amending CISF Act, 1968 in 1983.

Functions:

It is premier multi-skilled security agency tasked with providing security to various critical infrastructure installations both in government and private sector.

It also provides security to critical infrastructure like airports, atomic power plants, refineries, major ports, space installations, VIPs and engages in disaster management amongst others.

It has about one lakh 80 thousand personnel in its ranks. It also has its own Fire Wing to response to fire emergencies/accidents.