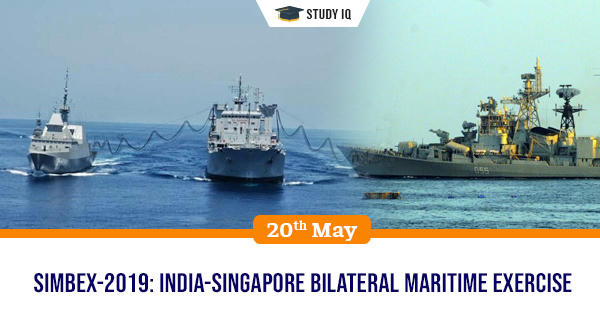 SIMBEX-2019: India-Singapore Bilateral Maritime Exercise
Date: 20 May 2019
Tags: Military Exercises
India, Singapore Bilateral Maritime Exercise SIMBEX-2019 is scheduled from May 16 to May 22, 2019. This edition of exercise is aimed at extending bridges of friendship through cultural, economic and maritime interactions with countries of east and south-east Asia.
SIMBEX-2019
It is 26th edition of this bilateral exercise. India is represented by INS Kolkata, INS Shakti and long range maritime patrol aircraft Poseidon-8I (P8I). Singapore is represented by RSN ships Valiant and Steadfast, maritime patrol aircraft Fokker-50 (F-50) and F-16 fighter aircraft.

It will include various maritime combat exercises such as firing on aerial/ surface targets, coordinated targeting exercises, advanced aerial tracking and tactical exercises on surface/air scenarios. Sea exercise will be conducted in the South China Sea.
Background
SIMBEX bilateral naval exercise between India and Singapore was started from 1993. Since then it has grown in tactical and operational complexity. It has grown from traditional anti-submarine exercises to more complex maritime exercises such as advanced anti air/ surface practice firings, air defence operations, tactical exercises, etc.