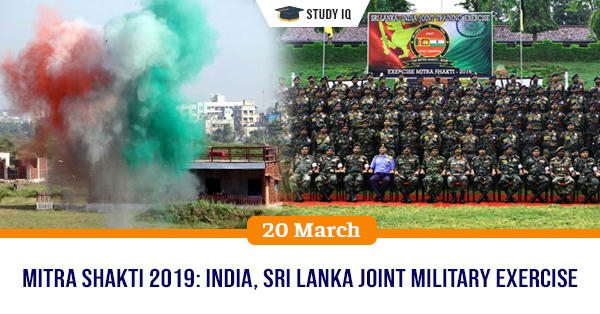 MITRA SHAKTI 2019: India, Sri Lanka joint military exercise
Date: 20 March 2019
Tags: Military Exercises
The 6th edition of India, Sri Lanka joint military exercise MITRA SHAKTI 2019 will be conducted from 26 March to 08 April 2019 in Sri Lanka. It is aimed at exchanging best of military practices of two countries and build strong military-to-military (M2M) relation between two armies.
Exercise MITRA SHAKTI-VI
It is conducted annually as part of military diplomacy and interaction between armies of India and Sri Lanka

The aim of this edition of exercise to build and promote close relations between armies of both countries.

It also seeks to enhance ability of joint exercise commander to take military contingents of both nations under command.

Indian Army will be represented by troops from 1st Battalion of BIHAR Regiment and Sri Lankan Army will be represented by Gemunu Watch Battalion.

Under it, both armies will conduct tactical level operations in international counter insurgency and counter terrorist (CI and CT) environment under United Nations (UN) mandate.