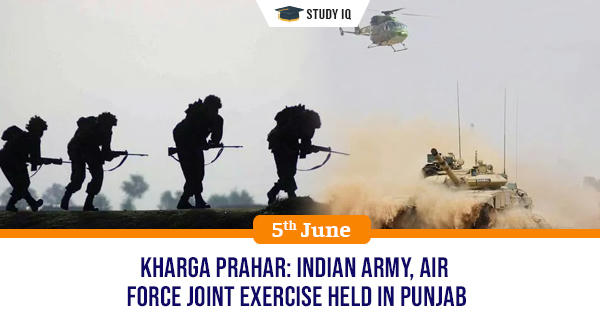 Kharga Prahar: Indian Army, Air force joint exercise held in Punjab
Date: 05 June 2019
Tags: Military Exercises
The joint Indian Army, Air force exercise- Kharga Prahar was held in Punjab from May 27 to June 4, 2019. The week-long exercise was undertaken by various units and formations of Kharga Corps.
Kharga Prahar Exercise
It was aimed at validating latest operational concepts designed to deliver a swift punitive blow to the adversary were the key features of the exercise.

Its setting had incorporated aspects of joint training wherein para drops from Indian Air Force (IAF) aircraft and simulated battlefield air strikes were conducted in support of ground forces.

It was successful in validating many important operational aspects and brought out valuable lessons and also reinforced a high degree of operational preparedness of Kharga Corps.
Kharga Corps
It is a corps of the Indian Army, based in Ambala. It is also known as II Corps. It was raised on October 7, 1971 by Lt Gen T N Raina at Krishna Nagar in West Bengal prior to Indo-Pakistani War of 1971.

During 1971 war, it had played important role in capturing important towns of Khulna, Jessore, Jhenida, Magura and Faridpur and also area between the rivers Ganges and Padma in erstwhile East Pakisan.

Subsequently, it was shifted to Western Theatre where it was initially located at Chandimandir Cantonment till 1984 and then moved to Ambala in January 1985.

It consists of:

1st Armoured Division headquartered at Patiala, 14th Infantry Division (India) (RAPID) Dehra Dun, Uttarakhand, 22nd Infantry Division headquartered at Meerut, 474 Engineering Brigade and 612 Mechanised Independent Air defence Brigade.