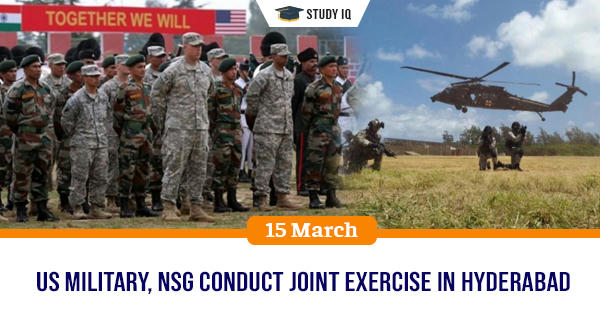 US military, NSG conduct joint exercise in Hyderabad
Date: 15 March 2019
Tags: Military Exercises
Special force of US military forces and Indian National Security Guard (NSG) conducted joint exercise at Hyderabad, Telangana as part of US-India security partnership. In this exercise, US military was represented by forces from 1st Battalion, 1st Special Forces Group (Airborne) stationed out of Okinawa, Japan.
About Exercise
Its aim was make both forces well prepared and deploy in actions to tackle crisis that may endanger public health and safety.

It also built interoperability and comradeship between two participating forces. It was designed to enhance capabilities of both Indian and US armed forces.

It was overseen from US Embassy, New Delhi and US Special Operations Pacific Command at Camp HM Smith in Hawaii.
Background
US special forces conduct such training events with armed forces select group of nations in Indo-Pacific region to enhance coordination and capabilities. Such exercises are conducted under Indo-Pacific Command's Theater Security Cooperation Program
US has recognised India as Major Defence Partner and military collaboration between both countries is result of high-level trust. Both countries are also consistently working together to increase interoperability, build partner capacity, prevent conflict, and promote regional strength and peace throughout Indo-Pacific region.