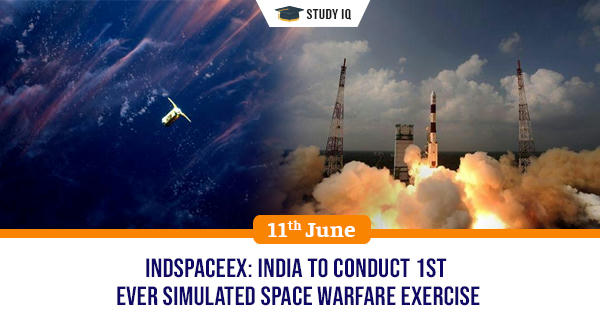 IndSpaceEx: India to conduct 1st ever simulated space warfare exercise
Date: 11 June 2019
Tags: Military Exercises
India will conduct its first-ever simulated space warfare exercise named-IndSpaceEx in the last week of July, 2019. The main aim this exercise is to assess requisite space and counter-space capabilities that are needed by India. It will also help India to better grasp strategic challenges in space that need to be handled.
About IndSpaceEx
This exercise will basically be a 'table-top war-game', with all stakeholders from the military and scientific community taking part in it.

Its purpose is to help grasp strategic challenges in space that need to be handled. It will also help to assess capabilities India needs to ensure that it can protect its space assests.

It will also help to better understand possible challenges in space warfare and major threat to India's national security interest in this final frontier of warfare at a time when space is getting militarised, contested and competitive.
Background
The development comes months after India successfully tested an anti-satellite (A-Sat) missile under 'Mission Shakti' and initiated raising of a new tri-service Defence Space Agency.

Mission Shakti:

Under it, India successfully took first step towards developing credible counter-space capability after successful test of 19-tonne interceptor missile (A-Sat) destroying 740-kg Microsat-R satellite, at an altitude of 283 km (low earth orbit) in 'hit-to-kill mode' on 27th March, 2019. After this test, India became 4th country in the world to acquire such specialised and modern capability indigenously to hit a live target in space after US, Russia and China.

Defence Space Agency:

It is formed by merging Defence Imagery Processing and Analysis Centre (Delhi) and Defence Satellite Control Centre (Bhopal). It will be headed by two-star IAF general. In coming years, it is expected to eventually grow into a full-fledged Space Command.