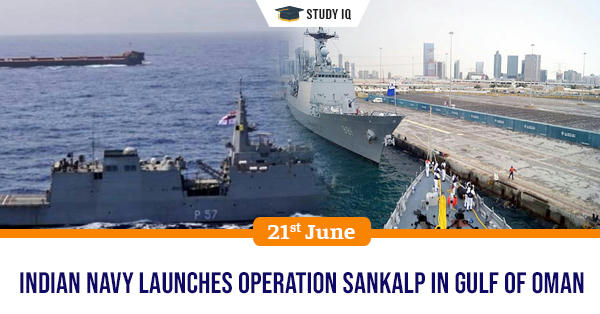 Indian Navy launches Operation Sankalp in Gulf of Oman
Date: 21 June 2019
Tags: Military Exercises, Defence & Security
Indian Navy launched Operation Sankalp in Persian Gulf and the Gulf of Oman to reassure Indian flagged vessels transiting through the area following the recent maritime incidents in the region. Purpose of this opertation is to re-assure Indian Flagged Vessels operating/transiting through Persian Gulf and the Gulf of Oman, following the maritime security incidents in the region.
Operation Sankalp
Under it, Indian Navy has deployed INS Chennai and INS Sunayna in the region to undertake maritime security operations. In addition, aerial surveillance in area is also being done by Indian Navy aircraft. Besides, Gurugram based Information Fusion Centre - Indian Ocean Region of Indian Navy is also keeping close watch on the movement of ships in the Gulf region.
Significane: This shows that Indian Navy remains committed to ensuring safety of Indian maritime trade and merchant vessels operating in region and contributing towards maintaining stable and peaceful Indian Ocean Region (IOR),
Background
India's strategic and security interests are closely linked to IOR as its energy security is closely linked to safety and security of ships while operating and transiting in Gulf of Oman and Persian Gulf (this region accounts for 55% of India's oil imports). Operation Sankalp was launched in wake of escalating tension in Gulf of Oman, where two oil tankers were attacked last week. The incident has since heightened tensions between Iran and United States. It remains unclear who was responsible forattacks but US has put the blame on Iran, which, in turn, has denied the allegations. As a precautionary measure, Director General, Shipping also has issued two advisories to all Indian-flagged vessels operating in Strait of Hormuz and Persian, Arabian Gulf Region, advising ships to undertake appropriate protection measures.