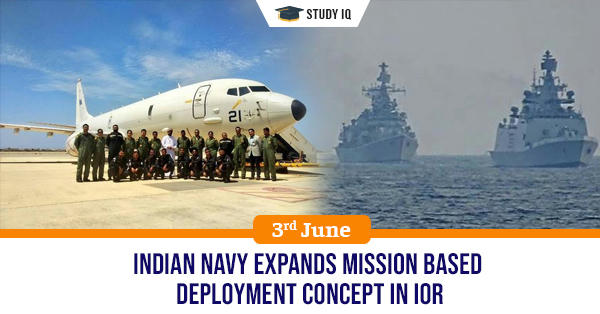 Indian Navy expands Mission Based Deployment Concept in IOR
Date: 03 June 2019
Tags: Policy, Military Exercises
Indian Navy has expanded its Mission Based Deployments (MBD) in t Indian Ocean Region (IOR) by deploying its P-8I long-range maritime surveillance aircraft for anti-piracy sorties from Salalah in Oman to patrol the Gulf of Aden and other piracy prone areas to keep IOR safe and secure for all. This was for second time P-8I operated from Salalah for anti-piracy this year. It was operated from there for first time in January 2019. The airplane is used for providing long-range Maritime Domain Awareness (MDA).
Background
In recent past, geo-strategic importance of Indian Ocean Region (IOR) has seen gradual increase mainly after piracy incidents off Somalia coast in Gulf of Aden and China's increasing naval presence. Since 2008, Indian Navy has been conducting anti-piracy patrols in commercially crucial Gulf of Aden. It has been regularly deploying ships for Presence and Surveillance Missions (PSM), off critical choke points and crucial sea lanes in the IOR.
Since August 2017, deployments of Indian Navy in the IOR have been further structured under the Mission Based Deployment (MBD) concept. It is being implemented to ensures availability of warships in 7-8 critical areas of the IOR on a nearly continuous basis to provide rapid response to any contingency.
The reason behind the deployment of warships are: (i) Continued prevalence of piracy (ii) Illegal fishing (iii) Arms smuggling and other such nefarious activities that directly impinges maritime security of India in particular and the region at large. (iv) Natural disasters also ravage the region frequently and (v) Increase in the presence of `Extra-Regional Forces'.
Under MBD concept, Indian Naval ships were also Mission Deployed in addition to the anti-piracy deployment for Operation 'GULFDEP' in the Persian Gulf, Operation 'CENTDEP' in the central IOR, Operation 'MALDEP' in the Andaman Sea and approaches to the Malacca Strait and Operation 'NORDEP' in the northern Bay of Bengal.
Besides, Indian Navy under the 'Neighbourhood First' policy has been undertaking Joint Exclusive Economic Zone (EEZ) surveillance with Maldives, Seychelles and Mauritius and Coordinated Patrols (CORPAT) with Bangladesh, Thailand, Myanmar, and Indonesia.