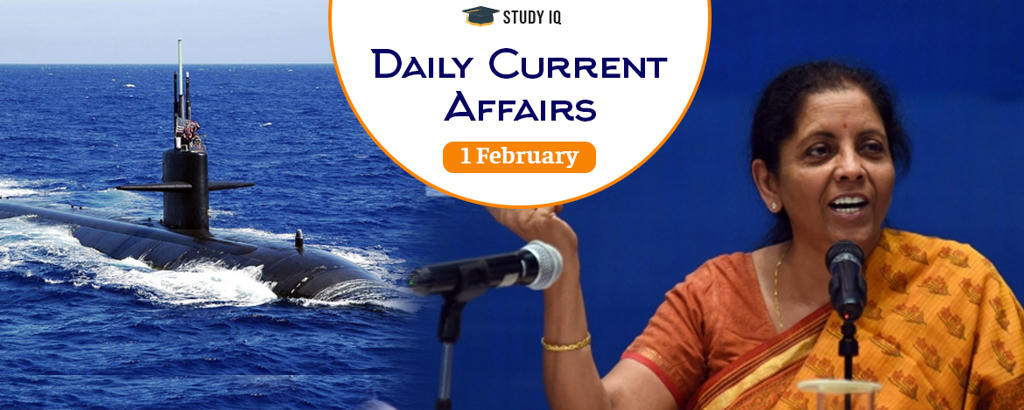 DAC approves construction of six Project 75I submarines
Date: 01 February 2019
Tags: Military Exercises
Defence Acquisition Council (DAC) chaired by Defence Minister Nirmala Sitharaman has approved indigenous construction of six new-generation conventional stealth submarines under Project 75I for Indian Navy through Strategic Partnership (SP) model. This approval is dubbed as "mother of all underwater deals" as it will cost at least Rs. 50,000 crore.
Note
This is the second project to be approved under SP model that aims at providing significant fillip to Government's 'Make in India' programme. The first project (approved in August 2018) under this new model was acquisition of 111 utility helicopters for Indian Navy.
Project 75I-class submarines
It is follow-on of Project 75 Kalvari-class submarines for Indian Navy. Under it, the Indian Navy intends to acquire diesel-electric submarines.

Submarines under it will be constructed in Indian shipyards. They will have advanced stealth capabilities such as greater ability to suppress noise and acoustic signatures.

They will have vertical launch system (VLS) to enable them to carry multiple Brahmos supersonic cruise missiles, making them fully capable of anti-surface (land attack) and anti-ship warfare missions.

They will also be armed with torpedoes. They will also be outfitted with Air-independent propulsion (AIP) fuel cells which can significantly increase submerged endurance and operational range.

Construction of these submarines under SP model will provide major boost to existing submarine design and manufacturing eco-system in India through transfer of design and equipment technology as well as necessary skill sets.
What is Strategic Partnership (SP) model?
It envisages indigenous manufacturing of major defence platforms by Indian Strategic Partner, who will collaborate with foreign Original equipment manufacturer (OEM) as offset partner to set up production facilities in the country.

Its long term vision is to promote India as manufacturing hub for defence equipment through transfer of niche technologies from foreign defence giants and promote higher indigenous content.
Significance
This will help in enhancing self-sufficiency for meeting future requirements of armed forces.

It will help in establishing indigenous industrial and Research & Development ecosystem in defence manufacturing sector in India.