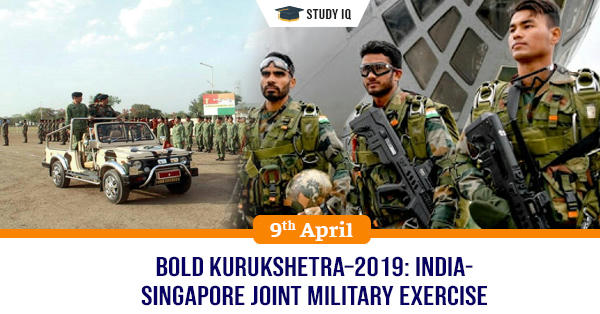 Bold Kurukshetra–2019: India-Singapore Joint Military Exercise
Date: 09 April 2019
Tags: Military Exercises
Bold Kurukshetra–2019: India-Singapore Joint Military Exercise
Indo-Singapore bilateral defence exercise Bold Kurukshetra–2019 commenced at Babina Military Station in Jhansi district of Uttar Pradesh. It is 12th edition of this military exercise between both countries.
BOLD KURUKSHETRA-2019
Its aim is to attain high level of interoperability between the two armies through mutual understanding and familiarisation with each other's operational procedures and equipment.

The three-day exercise is being conducted to develop military technology, boost maritime security and bolster fight against terrorism.

Indian Army contingent is being represented by GUARDS Unit and Singapore is being represented by its 42 Armoured Regiment.
Background
India and Singapore have signed a cooperation agreement to strengthen the defence ties between Indian Military and Singapore Armed Forces in November, 2017. As per the agreement, Singapore military will undergo training and participate in firing exercise with their Indian counterpart.