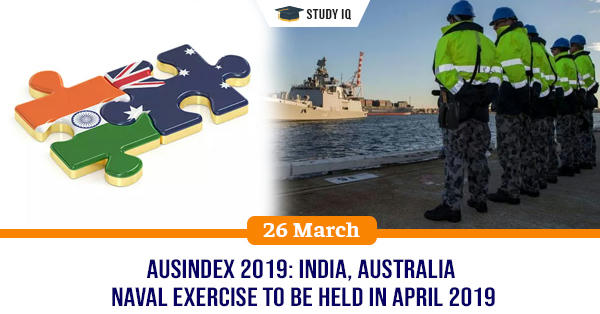 AUSINDEX 2019: India, Australia naval exercise to be held in April 2019
Date: 26 March 2019
Tags: Military Exercises
India and Australia will conduct AUSINDEX 2019 bilateral naval exercise off the coast of Vishakhapatnam in Bay of Bengal from April 2 to 16, 2019. Overall it will be third installment (edition) of bilateral naval exercise between Indian Navy and Royal Australian Navy.
AUSINDEX 2019
The focus of this edition of exercise will be will be anti-submarine warfare. It will feature reconnaissance and attack aircraft, warships and submarines from both sides.

It is aimed at boosting bilateral naval cooperation between India and Austrailia in the strategic Indian Ocean region.

It will be most complex and largest naval exercise at high end between two countries which have established comprehensive strategic partnership between them.

It will see participation of over 1,000 Australian defence personnel, four Royal Australian Navy ships.

It includes HMAS (Her Majesty's Australian Ship) Canberra, HMAS Success, HMAS Newcastle, and HMAS Parramatta.

It will be Australia's largest display of its defence assets since 1947.

There will be the deployment of Australian personnel on Indian ships and vice versa.

Both countries will also deploy P-8I aircraft and P-8A aircraft, which

are long-range anti-surface warfare, anti-submarine warfare, intelligence, surveillance and reconnaissance aircrafts capable of broad-area, maritime and littoral operations.