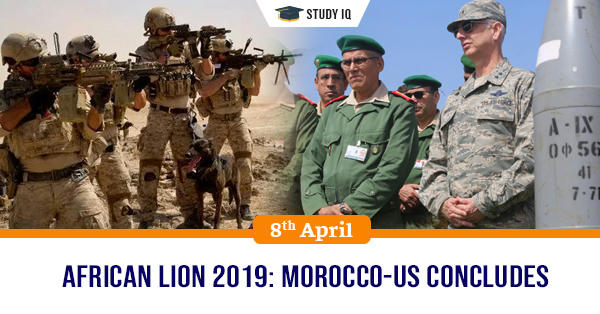 African Lion 2019: Morocco-US concludes
Date: 08 April 2019
Tags: Military Exercises
Morocco-United States (US) Joint Military Exercise 'African Lion 2019' concluded in Southern Morocco. It was held southern Moroccan cities of Agadir, Tifnit, Tan-Tan, Tata, and Ben Guerir near Marrakech from 16 March to 7 April, 2019. Besides Morocco and US, military units from Canada, Spain, Great Britain Senegal, and Tunisia also took part this exercise as observers.
African Lion
It is annual exercise led by US Africa Command-sponsored, Marine Forces Africa (MARFORAF). It is designed to improve interoperability and mutual understanding of African partner nation's (APN) tactics, techniques and procedures.
Its intend is to enhance US, African partner nations, western partner nations, and regional organizations capabilities and interoperability in containing regional instability, countering violent extremist organizations (VEOs), conducting peace operations, maintaining cross-border security, and counter transnational threats.
It involves various types of training including command post, live-fire and maneuvering, intelligence capacity building seminar, peace keeping operations, aerial refueling/low-level flight training as well as medical and dental assistance projects.