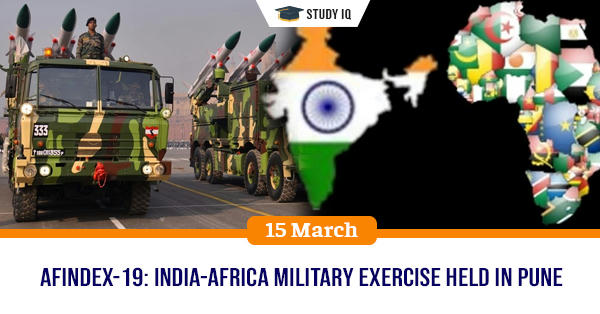 AFINDEX-19: India-Africa military exercise held in Pune
Date: 15 March 2019
Tags: Military Exercises
India-Africa Joint Field Training Exercise (AFINDEX-19) between Indian Army and armies of 16 African nations will be conducted at Pune, Maharashtra. The aim of this exercise is to train participating contingents of16 African nations in Humanitarian Mine Assistance (HMA) and Peace Keeping Operations (PKO) under United Nations (UN) Charter.
AFINDEX-19
Ten personnel each from participating African nations and personnel of MARATHA Light Infantry of Indian Army will take part in this joint training exercise.

Contingent of African nations participating in this exercise are Egypt, Nigeria, Ghana, Sudan, Senegal, Tanzania, South Africa, Namibia, Mozambique, Uganda, Niger & Zambia.

Besides, officers from Rwanda, Democratic Republic of Congo and Madagascar will also attend this exercise as Observers.

It will focus on incorporating current dynamics of UN Peace Keeping Operations through practical and comprehensive discussions and tactical exercises.

It will also focus on achieving interoperability, learning each other's methodologies and tactics through synchronised operational level planning and tactical level training.

It will cover dynamics of raising mission headquarters, nuances of establishing military observer team sites in disturbed areas requiring UN Peace Keeping Force.

It will also cover tactical aspects of various tasks to be undertaken by peace keeping force enshrined under Chapter VII of UN Charter for Peace Keeping missions.