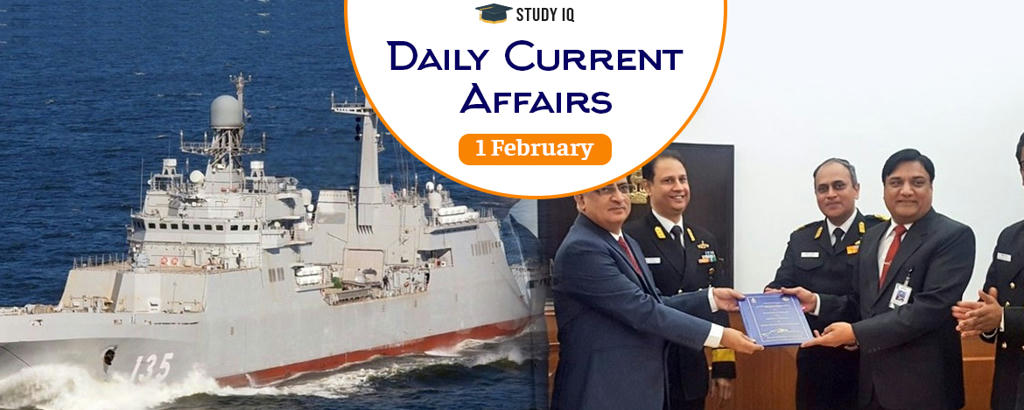 Government signs contract for acquisition of two Project 1135.6 Follow-on Ships
Date: 01 February 2019
Tags: Military Exercises
Union Ministry of Defence has signed contract with Goa Shipyard Ltd (GSL) for construction of two additional Project 1135.6 Follow-on Ships (Talwar Class-class guided missile frigates) with advanced stealth features for Indian Navy. The development of these additional ships is in line with Inter-Governmental Agreement (IGA) signed between India and Russia in 2016 for construction of additional ships under Project 1135.6.
Project 11356 frigates ships
They are Talwar-class guided missile frigates designed and built by Russia for Indian Navy. Currently Indian Navy has six of these ships. They are improved versions of Krivak III-class (Project 1135) frigates designed by Severnoye Design Bureau and used by Russian Coast Guard. These frigates were having semi-stealth features and better armament. The first batch of ships were built by Baltic Shipyard and second batch by Yantar Shipyard.
Follow-on P 1135.6 series
The two additional follow-on P1135.6 series of frigates ships will be built by GSL in line with Government's 'Make in India' initiative with Russia's assistance.

These ships will be largest in its class in Indian Navy with advanced stealth features such as special hull design to limit radar cross-section, low electromagnetic, infrared and underwater noise signatures.

They will carry highly sophisticated and state-of-art weapon systems and sensors. They will be fitted with indigenous equipment such as sonar system, Brahmos missile system, Combat Management System etc.

The ships will be equipped to operate in littoral and blue waters, both as single unit and also as consorts of naval task force.

They will also serve as potent platforms with mission span covering entire spectrum of Naval warfare, Air, Surface and Sub-surface. They are scheduled for delivery in June 2026 and December 2026 respectively.

To support these ships through their life cycle, Indian Navy has put in place requisite infrastructures for training and maintenance.
Goa Shipyard Limited (GSL)
It is Government owned ship building company located on India's western coast at Vasco da Gama, Goa. It functions under administrative control of Union Defence Ministry.

It manufactures warships for the Indian Navy and the Indian Coast Guard. So far it has built 167 vessels, including barges, tugs, landing craft, offshore patrol vessels (OPVs) and other vessels for Indian Navy and IGC and also exported to countries like Yemen.

It was established in 1957 as "Estaleiros Navais de Goa", by then colonial Portuguese Government which was ruling Goa. After Goa's liberation in 1961, its control was taken by Indian Government and was renamed to present name.