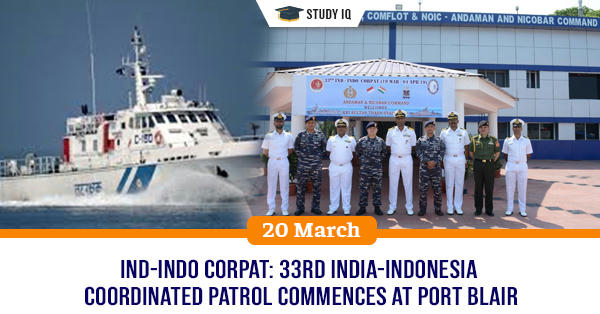 Ind-Indo Corpat: 33rd India-Indonesia Coordinated Patrol commences at Port Blair
Date: 20 March 2019
Tags: Military Exercises
33rd edition of India, Indonesia Coordinated Patrol (Ind-Indo Corpat) commenced at Port Blair, Andaman & Nicobar Islands. It os aimed at consolidating interoperability and strengthen existing bonds of friendship between India and Indonesia.
Under this joint patrolling, ships and aircrafts from both countries will undertake patrolling on respective sides of 236 nautical miles long International Maritime Boundary line. Indonesian Naval Ship KRI Sultan Thaha Syaifuddin and Maritime Patrol Aircraft CN-235 are taking part in this edition of Corpat.
Significance of 33rd Ind-Indo Corpat
This coordinated patrol coincides with 70 years of India-Indonesia diplomatic ties. It will contribute towards Indian Navy's efforts to consolidate inter-operability and forge strong bonds of friendship across the seas. It also reflects shared concerns between two countries for peaceful Indian Ocean for benefit of international community. It also enhances mutual understanding and inter–operability between the two navies.
IND-INDO CORPAT
It is series of bilateral coordinated patrolling conducted twice year since 2002 by Indian and Indonesian navies under strategic partnership between both countries.

It seeks to underscore India's peaceful presence and solidarity with friendly Maritime neighbours countries to ensure good order in maritime domain.

The joint patrolling is conducted by navies of both countries near International Maritime Boundary Line in an effort to keep Indian Ocean region (IOR) safe and secure for commercial shipping and international trade.
Background
In recent times, Indian Naval assets have been increasinly deployed to address maritime concerns of Indian Ocean region (IOR). In addition, as part of Government's vision of Security and Growth for All in the Region (SAGAR), Indian Navy has also been involved in assisting countries in IOR with Exclusive Economic Zone (EEZ) Surveillance, Search and Rescue, and other capability-enhancement and capacity-building activities.