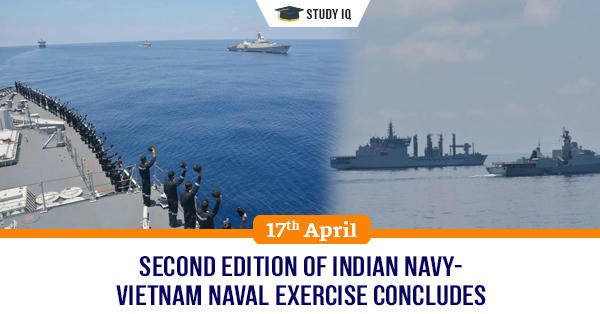 Second edition of Indian Navy-Vietnam naval exercise concludes
Date: 17 April 2019
Tags: Military Exercises
Second edition of India, Vietnam bilateral naval exercise IN–VPN BILAT EX 2019 concluded off Cam Ranh Bay in Vietnam. The exercise was undertaken as part of ongoing Overseas Deployment of Eastern Fleet ships to South East Asian countries.
IN–VPN BILAT EX 2019
The exercise was aimed at strengthening mutual confidence and inter-operability as well as sharing best practices between Indian Navy and Vietnam Peoples' Navy. It comprised of harbour and a sea phase. Indian Navy was represented by INS Kolkata.
Background
Indian Navy and Vietnamese Navy have traditionally share good relations. The bilateral naval exercise between both countries was started in 2018 as part of Comprehensive Strategic Partnership' between both countries. The Navy to Navy cooperation under this partnership involves Composite Training Programme in fields of submarine, aviation and dockyard training. Both countries also have signed agreement to exchange White Shipping Information and have a running 'Information Sharing' programme.