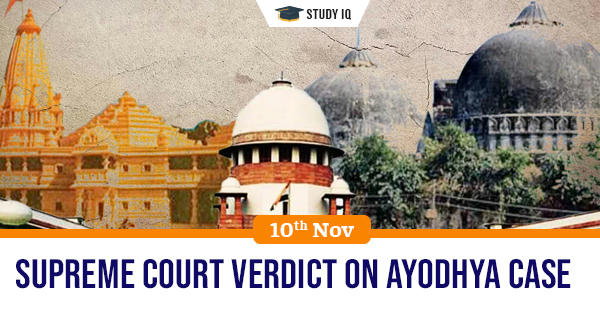 Supreme court verdict on Ayodhya case
Date: 10 November 2019
Tags: Judiciary & Judgments
Issue
The Supreme court has delivered the final verdict in the Ayodhya case with an almost unanimous decision, which brings to an end one of the longest running issue in modern Indian history.
Background
The Ayodhya case was a dispute between Muslim and Hindu parties regarding a piece of land which the Hindus claimed to be the birth place of Lord Ram whereas the Muslims believed that the land belonged to the now-destroyed Babri Masjid.
Details
The Supreme court bench led by CJI Ranjan Gogoi have given unanimous decision regarding the ownership of the land which is as follows:
Supreme Court has granted the entire 2.77 acre of disputed land in Ayodhya to deity Ram Lalla.

Supreme Court has directed the Centre and Uttar Pradesh government to allot an alternative 5 acre land to the Muslims at a prominent place to build a mosque.

The court has asked Centre to consider granting some kind of representation to Nirmohi Akhara in setting up of trust. Nirmohi Akhara was the third party in the Ayodhya dispute.

The Supreme Court dismissed the plea of Nirmohi Akhara, which was seeking control of the entire disputed land, saying they are the custodian of the land.

Supreme Court has directed the Union government to set up a trust in 3 months for the construction of the Ram mandir at the disputed site where Babri Masjid was demolished in 1992.

The Supreme Court said the underlying structure below the disputed site at Ayodhya was not an Islamic structure, but the ASI has not established whether a temple was demolished to build a mosque.

The court also said that the Hindus consider the disputed site as the birthplace of Lord Ram while the Muslims also say the same about the Babri Masjid site.

The court also said that the faith of the Hindus that Lord Ram was born at the disputed site where the Babri Masjid once stood cannot be disputed.

The Supreme Court also said that the 1992 demolition of the 16th century Babri Masjid mosque was a violation of law.

While reading out its judgment, the Supreme Court said that the UP Sunni Central Waqf Board has failed to establish its case in Ayodhya dispute case and Hindus have established their case that they were in possession of outer courtyard of the disputed site.