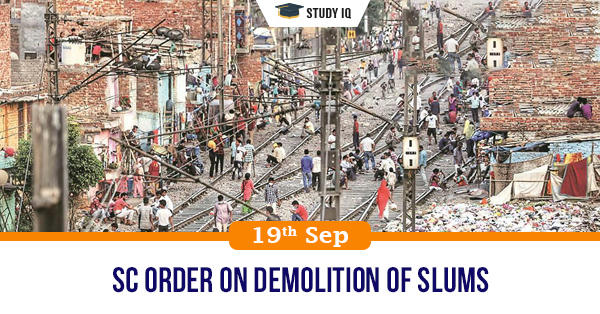 SC order on demolition of slums
Date: 19 September 2020
Tags: Judiciary & Judgments
Issue
The Delhi government and the Northern Railway have been trying to come up with a plan to demolish slums that have been built alongside the railway tracks in the city, and to rehabilitate the residents of these dwellings.
Background
The order for demolition was passed by the Supreme Court on August 31, which also said that no other court will grant a stay in the matter.
Details
The writ petition case being heard in the Supreme Court, in which the August 31 order to remove the slums was passed, was filed in 1985 by a lawyer over air pollution in Delhi.

Several other petitions and applications were then tagged along with the original petition and the scope of the petition widened to include vehicular pollution, garbage disposal, air quality etc.

In the present instance, the court was hearing a matter related to dumping garbage along railway tracks, in which the SC-mandated body – Environment Pollution (Prevention and Control) Authority – filed a report, and Northern Railway and civic administration were parties in the case.

The removal will result in lakhs of people ending up on the road during the pandemic, if the Centre (Northern Railway) and the state do not arrive upon a plan for relocation and rehabilitation of these people soon.

As part of the policy, slum clusters which have come up before January 2015 shall not be demolished without providing alternate housing. After this cut-off date, slums that came up will be demolished without providing alternate housing.

The policy says that of the land freed after slum clusters are removed, 60 percent has to be used for in-situ development to rehabilitate slum dwellers while the rest can be used as a resource.

This clause also applied to slums that are to be demolished under court orders if the particular piece of land is required for a specific public project. The protocol includes surveys to determine eligibility.

Railway and DUSIB now have to decide which of these models it will follow before it implements the Supreme Court's order to demolish the slums.