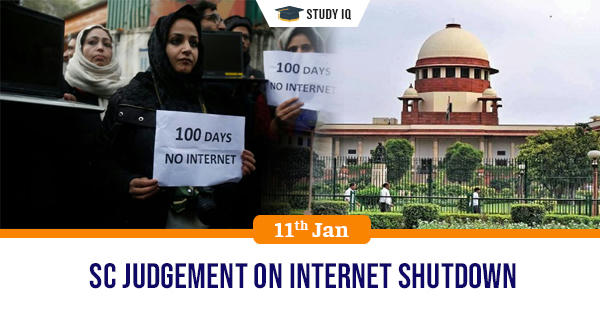 SC judgement on internet shutdown
Date: 11 January 2020
Tags: Judiciary & Judgments
Issue
The Supreme Court has for the first time set the stage for challenging suspension orders before courts by directing government to publish all orders mandatorily.
Background
Although the Temporary Suspension of Telecom Services (Public Emergency or Public Service) Rules, 2017 issued under the Telegraph Act, the law that deals with restricting Internet access does not provide for publication or notification of the order suspending Internet.
Details
The court declared that it is a "settled principle of law, and of natural justice" that requires publication of such orders, "particularly one that affects lives, liberty and property of people".

This allows individuals to now challenge the orders before courts in J&K and rest of India. While suspension orders were always subject to judicial review, lack of availability of such orders in public domain prevented such challenges before courts.

India tops the list of Internet shutdowns globally. According to Software Freedom Law Center's tracker, there have been 381 shutdowns since 2012, 106 of which were in 2019.

The court also said that there should not be excessive burden on free speech even if complete prohibition is imposed, and the government has to justify imposition of such prohibition and explain why lesser alternatives will be inadequate.

The Supreme Court also declared access to internet a fundamental right. A government cannot deprive the citizens of fundamental rights except under certain conditions explicitly mentioned in the Constitution.

Indian constitution makes the right to freedom of speech and expression a fundamental right for all citizens. It has been listed in Article 19 (1)(a) of the Constitution. The Supreme Court has on many occasions expanded the scope of the right to freedom of speech and expression.

The Supreme Court ruling is also in sync with the United Nations recommendation that every country should make access to Internet a fundamental right. In India, Kerala had become the first state in 2017 to declare access to Internet "a basic human right".
Article 19
(1) All citizens shall have the right
to freedom of speech and expression

to assemble peaceably and without arms;

to form associations or unions;

to move freely throughout the territory of India;

to reside and settle in any part of the territory of India; and

omitted (the right to property)

to practise any profession, or to carry on any occupation, trade or business.
The only restrictions which may be imposed are those mentioned in clause (2) of Article 19. These are:
the interests of the sovereignty and integrity of India,

the security of the State,

friendly relations with foreign States,

public order, decency or morality

in relation to contempt of court, defamation or

incitement to an offence