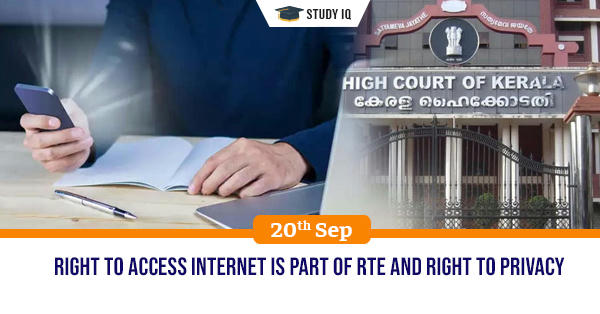 Right to access internet is part of RTE and Right to Privacy
Date: 20 September 2019
Tags: Judiciary & Judgments
Issue
The Kerala High Court held that the right to have access to the Internet is part of the fundamental right to education as well as the right to privacy under Article 21 of the Constitution.
Background
The verdict came on a petition filed by a student of third-semester B.A. English from a college at Chelanur, challenging her expulsion for not adhering to restrictions on the use of mobile phone and internet.
Details
The court observed that the action of the college authorities infringed the fundamental freedom as well as privacy and would adversely affect the future and career of students who want to acquire knowledge and compete with their peers. It said that such restriction could not be permitted to be enforced.

The college authorities had placed restrictions on the use of internet on the basis of Article 19(1)(a) of the constitution that restricts fundamental right to freedom of speech and expression.
Right to Privacy
The right to privacy is protected as an intrinsic part of the right to life and personal liberty under Article 21 and as a part of the freedoms guaranteed by Part III of the Constitution.
Article 21
It states that "No person shall be deprived of his life or personal liberty except according to a procedure established by law".
Article 21 secures two rights:
1) Right to life
2) Right to personal liberty.