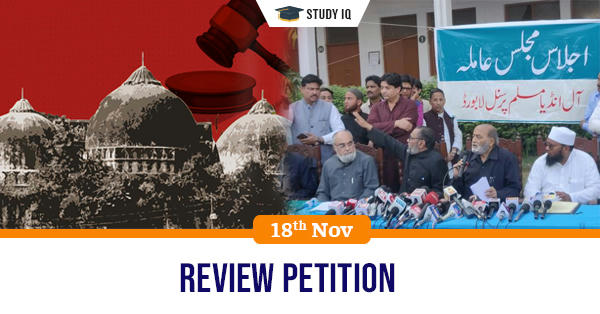 Review petition
Date: 18 November 2019
Tags: Judiciary & Judgments
Issue
The All India Muslim Personal Law Board (AIMPLB) and Jamiat ulama i Hind announced have that they would file review petitions on the Supreme Court judgment in the Ram Janmabhoomi-Babri Masjid dispute.
Background
The expert panel of the litigant observed that the judgment was against the Babri Masjid and it was not a final judgment as the option of reviewing is available under the Constitution.
Details
The parties against the verdict have been thinking about challenging the apex court's decision in front of a review bench.

In India, a binding decision of the Supreme Court/High Court can be reviewed in Review Petition. The parties aggrieved on any order of the Supreme Court on any apparent error can file a review petition.
Review petitions
Article 137 of the Constitution provides that subject to provisions of any law and rule made under Article 145 the Supreme Court of India has the power to review any judgement pronounced (or order made) by it.

Under Supreme Court Rules, 1966 such a petition needs to be filed within 30 days from the date of judgement or order.

It is also recommended that the petition should be circulated without oral arguments to the same bench of judges that delivered the judgement (or order) sought to be reviewed.

Even after dismissal of a review petition, the SC may consider a curative petition in order to prevent abuse of its process and to cure gross miscarriage of justice.