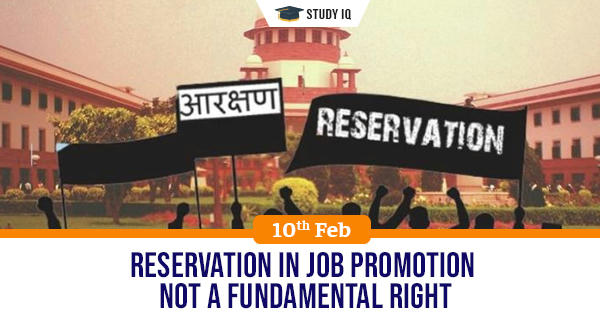 Reservation in job promotion not a fundamental right
Date: 10 February 2020
Tags: Judiciary & Judgments
Issue
Reservation in promotion in public posts cannot be claimed as a fundamental right, the Supreme Court stated in a judgement.
Background
The judgment was based in a batch of appeals pertaining to the reservations to Scheduled Castes and Scheduled Tribes in promotions in the posts of Assistant Engineer (Civil) in Public Works Department of Uttarakhand.
Details
The Apex court observed that State governments are not bound to make reservations. Even the courts could not issue a mandamus directing States to provide reservations.

The court said, Articles 16 (4) and 16 (4-A) of the Constitution did not confer individuals with a fundamental right to claim reservations in promotion.

The Articles empower the State to make reservation in matters of appointment and promotion in favour of the Scheduled Castes and Scheduled Tribes only if in the opinion of the State they are not adequately represented in the services of the State.

The top court observed the state government has the absolute discretion to decide whether or not to provide for reservation in jobs or reservation in promotions. Also, the state government is not under any obligation to do so.

The court also said, if a State wishes to exercise its discretion and make reservation in promotions, it has to first collect quantifiable data showing inadequacy of representation of a class or community in public services.