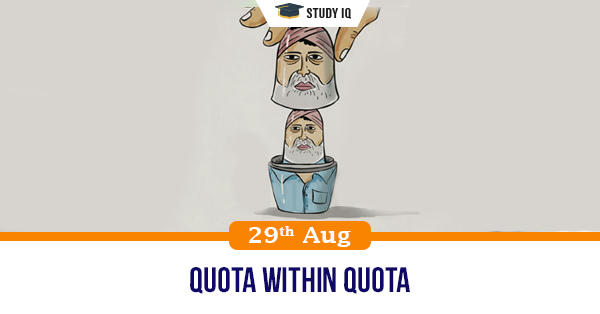 Quota within quota
Date: 29 August 2020
Tags: Judiciary & Judgments
Issue
A five-judge Constitution Bench of the Supreme Court reopened the legal debate on sub-categorisation of Scheduled Castes and Scheduled Tribes for reservations.
Background
While the Bench ruled in favour of giving preferential treatment to certain Scheduled Castes over others to ensure equal representation of all Scheduled Castes, it referred the issue to a larger Bench to decide.
Details
Earlier the Supreme Court had ruled that state governments had no power to create sub-categories of SCs for the purpose of reservation.

States have argued that among the Scheduled Castes, there are some that remain grossly under-represented despite reservation in comparison to other Scheduled Castes.

This inequality within the Scheduled Castes is underlined in several reports, and special quotas have been framed to address it.

For example, in Andhra Pradesh, Punjab, Tamil Nadu and Bihar, special quotas were introduced for the most vulnerable Dalits. In 2007, Bihar set up the Mahadalit Commission to identify the castes within SCs that were left behind.

The Constitution, while providing for special treatment of SCs and STs to achieve equality, does not specify the castes and tribes that are to be called Scheduled Castes and Scheduled Tribes. This power is left to the central executive, the President.

As per Article 341, those castes notified by the President are called SCs and STs. A caste notified as SC in one state may not be a SC in another state. These vary from state to state to prevent disputes as to whether a particular caste is accorded reservation or not.

The Supreme Court has engaged with the argument on whether the benefits of reservation have trickled down to the "weakest of the weak".

The concept of a "creamy layer" within SCs was upheld by the court in a 2018 judgment in Jarnail Singh v Lachhmi Narain Gupta.

The "creamy layer" concept puts an income ceiling on those eligible for reservation. While this concept applies to Other Backward Castes, it was applied to promotions of Scheduled Castes for the first time in 2018.

In the Jarnail Singh case, the court held that the objective of reservation is to ensure that all backward classes march hand in hand and that will not be possible if only a select few get all the coveted services of the government.