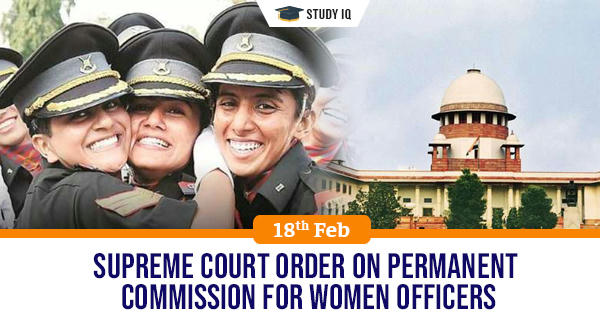 Supreme court order on permanent commission for women officers
Date: 18 February 2020
Tags: Judiciary & Judgments
Issue
The Supreme Court brought women officers in 10 streams of the Army on a par with their male counterparts in all respects, setting aside longstanding objections of the government.
Background
The case was first filed in the Delhi High Court by women officers in 2003, and had received a favourable order in 2010. But the order was never implemented, and was challenged in the Supreme Court by the government.
Details
The induction of women officers in the Army started in 1992. They were commissioned for a period of five years in certain chosen streams such as Army Education Corps, Corps of Signals, Intelligence Corps, and Corps of Engineers.

Recruits under the Women Special Entry Scheme (WSES) had a shorter pre-commission training period than their male counterparts who were commissioned under the Short Service Commission (SSC) scheme.

Serving WSES officers were given the option to move to the new SSC scheme, or to continue under the erstwhile WSES. They were to be however, restricted to roles in streams specified earlier, which excluded combat arms such as infantry and armoured corps.

While male SSC officers could opt for permanent commission at the end of 10 years of service, this option was not available to women officers. They were, thus, kept out of any command appointment, and could not qualify for government pension, which starts only after 20 years of service as an officer.

The government put forth other arguments before the Supreme Court to justify the proposal on the grounds of permanent commission, grants of pensionary benefits, limitations of judicial review on policy issues, occupational hazards, reasons for discrimination against women, SSC as a support cadre, and rationalization on physiological limitations for employment in staff appointments.
Supreme court's order: Implications
The SC has done away with all discrimination on the basis of years of service for grant of PC in 10 streams of combat support arms and services, bringing them on a par with male officers.

It has also removed the restriction of women officers only being allowed to serve in staff appointments, which is the most significant and far-reaching aspect of the judgment.

It means that women officers will be eligible to tenant all the command appointments, at par with male officers, which would open avenues for further promotions to higher ranks for them: if women officers had served only in staff, they would not have gone beyond the rank of Colonel.

It also means that in junior ranks and career courses, women officers would be attending the same training courses and tenanting critical appointments, which are necessary for higher promotions.

The implications of the judgment will have to be borne by the human resources management department of the Army, which will need to change policy in order to comply.

The bigger shift will have to take place in the culture, norms, and values of the rank and file of the Army, which will be the responsibility of the senior military and political leadership.