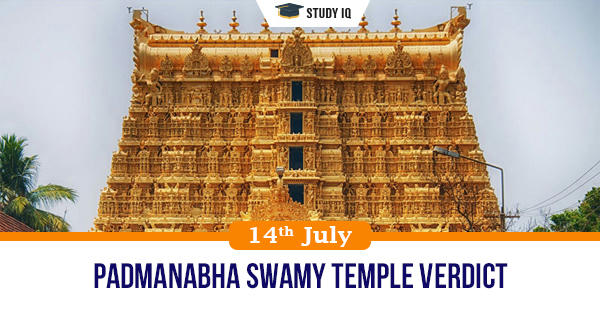 Padmanabha Swamy temple verdict
Date: 14 July 2020
Tags: Judiciary & Judgments
Issue
The Supreme Court upheld the right of the Travancore royal family to manage the property of deity at Sree Padmanabha Swamy Temple in Thiruvananthapuram.
Background
The ruling ends the legal battle the temple and members of the royal family have fought with the government for decades over control of one of the richest temples in the world.
Details
Since 2011, the process of opening the vaults has led to the discovery of treasures within the Padmanabhaswamy temple, prompting a debate on who owns temple property and how it should be regulated.

The court said that, as per customary law, the she bait rights (right to manage the financial affairs of the deity) survive with the members of the family even after the death of the last ruler.

The central legal question was whether Utradam Thirunal Marthanda Varma, the younger brother of Chithira Thirunal Balarama Varma, the last Ruler of Travancore, could claim to be the "Ruler of Travancore" after the death of the ruler in 1991.

The court examined this claim within the limited meaning of that term according to the Travancore-Cochin Hindu Religious Institutions Act, 1950 to claim ownership, control, and management of the ancient Sree Padmanabha Swamy Temple.

All the temples which were under the control and management of the erstwhile Princely States of Travancore and Cochin were under the control of the Travancore and Cochin Devaswom Boards before 1947.

However, as per the Instrument of Accession signed between the princely states and the Government of India, since 1949, the administration of the Padmanabhaswamy Temple was "vested in trust" in the Ruler of Travancore.

In 1991, when the last ruler's brother took over the temple management, it created a furore among devotees who moved the courts leading to a long-drawn legal battle.

Despite being a secular country that separates religion from the affairs of the state, Hindu temples, its assets are governed through statutory laws and boards heavily controlled by state governments.