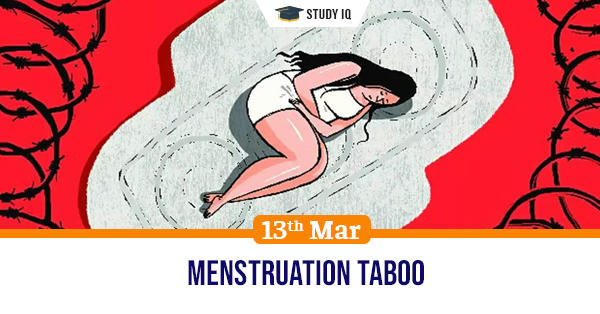 Menstruation taboo
Date: 13 March 2021
Tags: Judiciary & Judgments
Issue
Gujarat High Court has passed an order setting nine guidelines that the state should follow to end menstruation taboo and practice of discrimination associated with it.
Background
The order was in response to an incident in which girl students were forced to strip to check if they were menstruating. There was widespread criticism, forcing the court to form guidelines to remove taboo.
Details
There was a need to remove discriminatory practices for women in educational institutions, hostels and study areas, working places and others.

There has been a demand to set up a mechanism to check if the guidelines are being followed by such institutions.
Arguments
Petitioners have argued that treating menstruating women differently from other amounts to untouchability practice.

They have also sought a separate law to remove untouchability of menstruating women because there is a strong taboo, myths, discriminatory rituals etc that have been aimed at these sections.

Petitioners argue that exclusion on the basis of menstruation is not only an infringement of women's bodily autonomy but also an infringement of right to privacy.

Denial of equal opportunities through taboo and discriminatory practices leads to large number of girl students dropping out of school once they start menstruating.

There is also a demand for special provision to be made to stop all forms of Discrimination against Women.
Court observations
The court has directed the state government to create awareness among various sections including health and community health workers etc. It said that it will help in removing unscientific taboos and myths.

There has also been direction to remove social exclusion of women based on their menstrual status. The guidelines insist that state government raises awareness, includes the topic in school curriculum and sensitise public regarding menstruation.
Past issues of menstruation judgements
Earlier, the Delhi High Court had directed government officials to consider a plea for granting paid period leaves for women employees four days a month.

Women employees opting to work on menstruation days will be liable for overtime allowances.

Rajasthan High Court had denied a women relief from persecution just because it was argued that she suffered from premenstrual stress syndrome.

The court said that this condition was not that significant for acquitting a person from all their crimes.