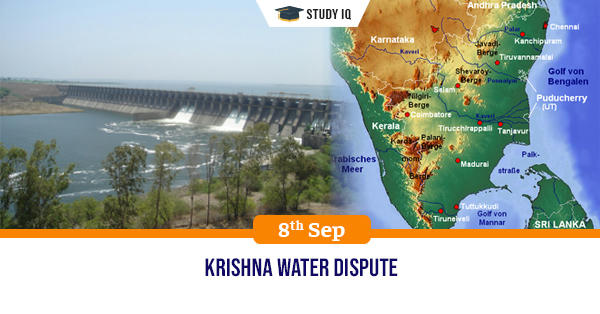 Krishna water dispute
Date: 08 September 2019
Tags: Judiciary & Judgments
Issue
Maharashtra and Karnataka Chief Ministers have agreed to jointly oppose Andhra Pradesh's application seeking a relook at the Krishna Water Disputes Tribunal's 2010 order on water distribution between the states.
Background
Krishna Water Disputes Tribunal (KWDT) is a tribunal set up by the Central Government in 1969 under the Interstate River Water Disputes Act, 1956 to resolve the disputes between the states of Karnataka, Maharashtra and then undivided Andhra Pradesh over sharing of Krishna river water.
Details
As new grievances arose between the states, the second KWDT was instituted in 2004. It delivered its report in 2010, which made allocations of the Krishna water at 65 per cent dependability and for surplus flows.

Andhra Pradesh has since asked that Telangana be included as a separate party at the KWDT and that the allocation of Krishna waters be reworked among four states, instead of three.

Telangana was created following bifurcation of Andhra Pradesh, which means that allocation of water should be from Andhra Pradesh's share as approved by the tribunal.

Andhra Pradesh wants reconstitution of the tribunal and a new proposal for water sharing. This move is being opposed by Karnataka and Maharashtra, the other basin states of Krishna river.
Krishna river
The Krishna is an east-flowing river that originates at Mahabaleshwar in Maharashtra and merges with the Bay of Bengal, flowing through Maharashtra, Karnataka, Telangana and Andhra Pradesh. Together with its tributaries, it forms a vast basin that covers 33% of the total area of the four states.
Tribunals
River tribunals are constituted based on 'The Interstate River Water Disputes Act, 1956'which is an Act of the Parliament of India enacted under Article 262 of Constitution.