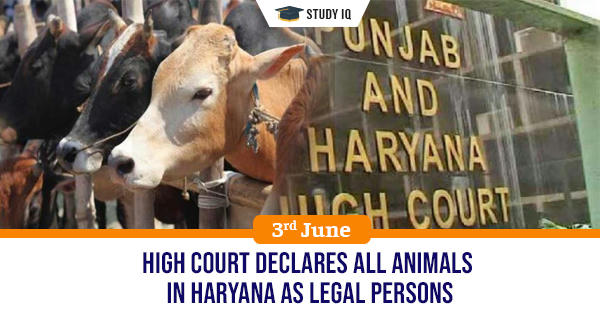 High Court declares all animals in Haryana as legal persons
Date: 03 June 2019
Tags: Judiciary & Judgments
The Punjab and Haryana High Court has accorded status of "legal person or entity" to animals in Haryana, granting them "corresponding rights, duties and liabilities of a living person". It also asserted that animals might be mute but we as a society have to speak on their behalf.
Note
The verdict of Punjab and Haryana HC comes nearly a year after Uttarakhand HC passed similar order to protect and promote greater welfare of animals. Both orders were written by Justice Rajiv Sharma, who was transferred from Uttarakhand to Punjab and Haryana High Court at Chandigarh in 2018. Justice Sharma was also part of bench in Uttarkahand that had in 2017 declared rivers Ganga and Yamuna as living entities, a verdict that was later stayed by Supreme Court.
Punjab and Haryana HC Ruling
Entire animal kingdom, including avian and aquatic, had a right to life (under Article 21) and bodily integrity, honour and dignity, are entitled to justice.

Animals and birds could not be treated merely as objects or property and they have legal rights like humans.

Animals should be healthy, well nourished, comfortable, safe, able to express innate behavior without fear, painand distress.

Declared all citizens throughout Haryana as persons in loco parentis (meaning – in place of parent) as the human face for welfare/protection of animals.

Directed Police to ensure that carts driven by animals were given the right of way to avoid inconvenience to animals.

Bans their deployment for pulling vehicles in extreme cold and heat conditions and also fixed load to be carried by animals.