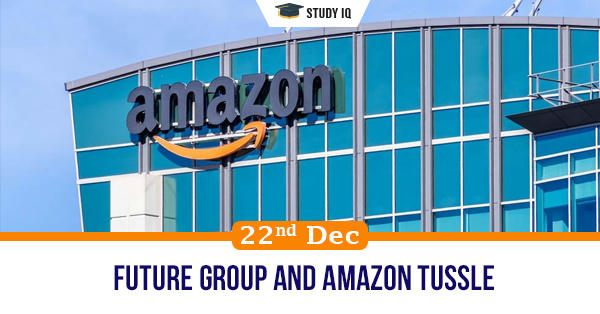 Future Group and Amazon tussle
Date: 22 December 2020
Tags: Judiciary & Judgments
Issue
The Delhi High Court has declined to grant Future Retail Ltd's (FRL) plea for an interim injunction preventing Amazon from writing to SEBI, CCI and other authorities about the arbitral order against its asset sale.
Background
In August this year, Future Group entered into an agreement with Reliance Retail to sell its retail, wholesale, logistics and warehousing to the latter.
Details
As a part of the deal, Future Retail will sell its supermarket chain Big Bazaar, premium food supply unit Foodhall and fashion and clothes supermart Brand Factory's retail as well as wholesale units to Reliance Retail.

Future Group was under immense pressure from its lenders to manage its debt, and the deal in seen as a bid by the group to cut down on the same.

Following the nationwide lockdown, the retail business of Future Group had come under more stress. Sales in many of its premium food sales arm Foodhall and Brand Factory had come to a near halt.
Amazon's objection
Last year, Future Retail had signed another deal with global e-commerce giant Amazon. As part of the deal, Amazon had acquired 49 per cent stake in Future Coupons, the promoter firm of Future Retail.

The deal had also given Amazon a 'call' option, which enabled it to exercise the option of acquiring all or part of Future Coupon's promoter, Future Retail's shareholding in the company, within 3-10 years of the agreement.

After Future's agreement with Reliance, Amazon said the deal was a violation of a non-compete clause and a right-of-first-refusal pact it had signed with the Future Group.

The deal also required Future Group to inform Amazon before entering into any sale agreement with third parties.

The Future Group has said that it has not sold any stake in the company, and was merely selling its assets and had therefore not violated any terms of the contract.
Implications
While the order says the statutory authorities and regulators can take a view on the deal in accordance with the law, it also held the award given by the arbitrator as valid.

Amazon will be allowed to make its case in front of various government bodies and regulators, mainly on the basis of the arbitration award.