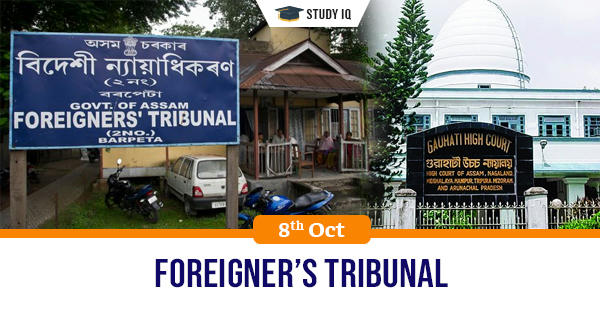 Foreigner's tribunal
Date: 08 October 2019
Tags: Judiciary & Judgments
Issue
The Gauhati High Court has pulled up a foreigner's tribunal in Assam that will deliver the final judgement for those excluded from the National Register of Citizens.
Background
The final list of bonafide citizens under NRC was published on August 31, and excluded more than 19 lakh people. Foreigner's tribunals are now reviewing their cases.
Details
Foreigner's Tribunal
The Foreigners' Tribunals are Quasi judicial courts mandated to hear appeals of those excluded from the NRC.

The tribunals will be established in convenient locations to ensure that filing and hearing of appeals is smooth and efficient.

Under the provisions of Foreigners Act, 1946 and Foreigners Tribunal Order, 1964, only Foreigner Tribunals are empowered to declare a person as a foreigner.

The Foreigners (Tribunals) Order, 1964 was issued by the Central Government under Section 3 of The Foreigners Act, 1946. It is applicable to the whole country.
Functions
It lays down the modalities for the Tribunals to decide on appeals made by persons not satisfied with the outcome of claims and objections filed against the NRC.

The tribunal will act like an institution that will provide assistance for individuals whose name does not figure in NRC list. It will give them chances to prove their citizenship claims.