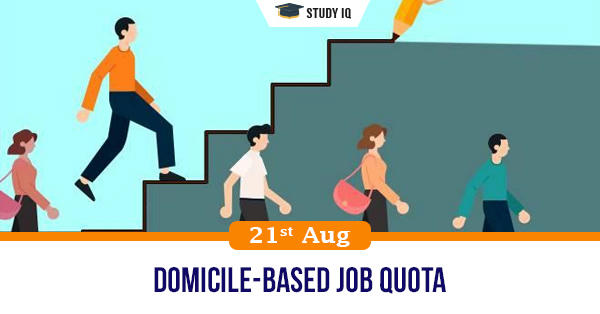 Domicile-based job quota
Date: 21 August 2020
Tags: Judiciary & Judgments
Issue
The Madhya Pradesh government's recent decision to reserve all government jobs for "children of the state" raises questions relating to the fundamental right to equality.
Background
While domicile-based reservations have been implemented in education, courts have been reluctant to expand this to employment.
Details
Article 16 of the Constitution, which guarantees equal treatment under law in matters of public employment, prohibits the state from discriminating on grounds of place of birth or residence.

Article 16(2) states that "no citizen shall, on grounds only of religion, race, caste, sex, descent, place of birth, residence or any of them, be ineligible for, or discriminated against in respect or, any employment or office under the State".

However, Article 16(3) of the Constitution provides an exception by saying that Parliament may make a law "prescribing" a requirement of residence for jobs in a particular state. This power vests solely in the Parliament, not state legislatures.

As India has common citizenship, which gives citizens the liberty to move around freely in any part of the country, the requirement of a place of birth or residence cannot be qualifications for granting public employment in any state.

The Supreme Court has ruled against reservation based on place of birth or residence. In 1984, ruling in Dr Pradeep Jain v Union of India, the issue of legislation for "sons of the soil" was discussed.

In a subsequent ruling in Sunanda Reddy v State of Andhra Pradesh (1995), the Supreme Court affirmed the observation in Pradeep Jain to strike down a state government policy that gave 5% extra weightage to candidates who had studied with Telugu as the medium of instruction.

In 2019, the Allahabad High Court struck down a recruitment notification by the UP Subordinate Service Selection Commission which prescribed preference for women who are "original residents" of the UP alone.

Constitutionally, some states also have special protections under Article 371. Andhra Pradesh under Section 371(d) has powers to have "direct recruitment of local cadre" in specified areas.

Before the abrogation of the special status of J&K in August last year, state government jobs were reserved exclusively for state subjects as per Article 370 of the Constitution.

Some states have gone around the mandate of Article 16(2) by using language. States that conduct official business in their regional languages prescribe knowledge of the language as a criterion.