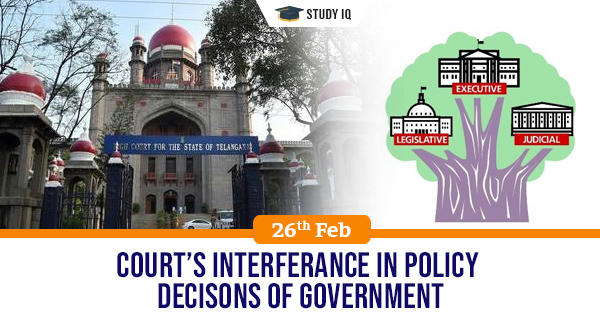 Court's interferance in policy decisons of government
Date: 26 February 2020
Tags: Judiciary & Judgments
Issue
Telangana High Court will hold final hearing on a batch of PIL pleas over the State government's decision to demolish the Secretariat building and on the issue of whether courts can intervene in an important policy decision taken by the government.
Background
Mentioning about the PIL petitions over government's proposal to demolish the existing Secretariat building (now completely evacuated) and construction of a new one, the AG appealed to the Bench to decide if the HC can intervene over a key policy decision taken by the government.
Details
The larger question in the issue was whether the courts can decide upon legality of a major policy decision taken by government.

The government said the bench should decide upon the issue as to whether the court can interfere with the government's decision just because some one approaches it opposing such policy decision.

An earlier Supreme court ruling had said that courts can decide the legality of Government decisions, but cannot substitute their views in policy matters.

Various judicial officials have opined that courts cannot behave as "super-legislatures" and that the judiciary should maintain self-restraint and respect separation of powers.
Seperation of Power
Separation of powers is a doctrine of constitutional law under which the three branches of government (executive, legislative, and judicial) are kept separate.

This is also known as the system of checks and balances, because each branch is given certain powers so as to check and balance the other branches.

It refers to the division of responsibilities into distinct branches of government by limiting any one branch from exercising the core functions of another. The intent of separation of powers is to prevent the concentration of power.

The Indian Constitution has indeed not recognized the doctrine of separation of powers in its absolute rigidity, but the functions of different parts or branches of the government have been sufficiently differentiated and consequently it can very well be said that our Constitution does not contemplate assumption, by one organ or part of the state, of functions that essentially belong to another.