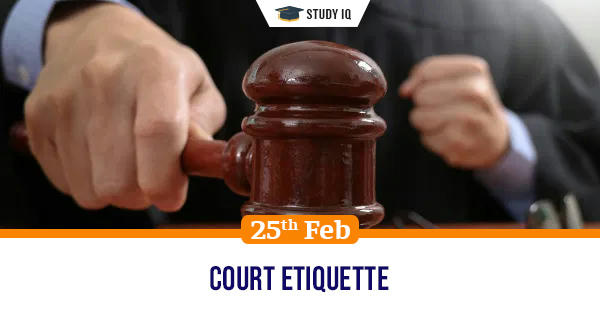 Court etiquette
Date: 25 February 2021
Tags: Judiciary & Judgments
Issue
The debate around court etiquette in India was triggered after a Supreme Court Bench objected to a petitioner addressing judges as "Your Honour".
Background
CJI Bobde had taken exception to judges being addressed as "Your Honour" in August 2020 as well. CJI had reminded petitioner that this was not the accepted practice in Indian courts.
Details
The Advocates Act of 1961, under section 49(1)(c), empowers the Bar Council of India to make rules on professional and etiquette standards to be observed by advocates.

As the words "My Lord" and "Your Lordship" are relics of a Colonial past, it proposed to incorporate new rules showing respectful attitude to the Court.

While the 2006 notification discouraged the use of "My Lord" and "Your Lordship", it prescribed "Your Honour" or "Hon'ble Court" as an acceptable way for addressing the Supreme Court & High Courts, and "Sir" in Subordinate Courts and Tribunals.

The matter came before the Supreme Court in 2014, when an advocate filed a PIL asking that the archaic expressions be banned.

In 2019, the Rajasthan High Court had resolved to censure the salutations "My Lord" and "Your Lordship" from courtroom protocol. The expression "Your Honour", however, remained unaffected by the order.
Court etiquettes
Etiquette is defined as the conventional requirements of social behaviour. In a courtroom setting, this etiquette is interpreted as proper behaviour to display while you are in the presence of the judge.

Courtroom etiquette is a prescribed and accepted standard of behaviour for those visiting the courthouse.