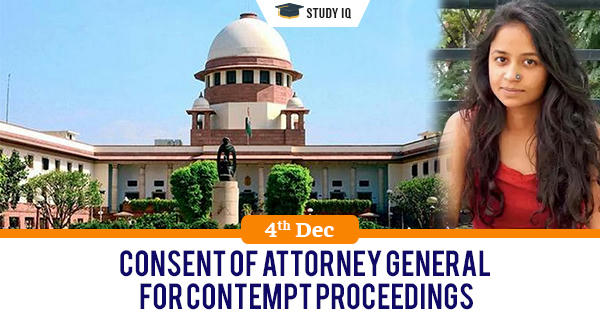 Consent of Attorney General for contempt proceedings
Date: 04 December 2020
Tags: Judiciary & Judgments
Issue
Attorney General has given his consent for initiating contempt proceedings against illustrator Rachita Taneja for scandalising judiciary through her works.
Background
The comic illustrations were made with respect to the bail given to Republic TV co-founder Arnab Goswami by the apex court.
Details
The Contempt of Courts Act, 1971, lays down the law on contempt of court. Section 15 of the legislation describes the procedure on how a case for contempt of court can be initiated.

In case of Supreme Court the Attorney General and in case of High courts the Advocate General may bring a motion for initiating case of contempt.

If motion of contempt is brought by other person then written consent by the AG in writing is necessary for proceeding.

The motion for initiating the case will have to specify the contempt of which the person charged is alleged to be guilty.

The objective behind requiring consent is saving time of the court. Judicial time is wasted if court is involved in frivolous cases having no subsistence.

The AG's consent will indicate that as the highest law officer of the country, he has certified the case to be worthy of Supreme Court's attention.

AG's consent is compulsory for contempt petition by a private citizen. Before the plea is registered, the AG must sign the complaint.

The consent of AG is not required if the court takes contempt initiation on its own through sou motu action, using its extraordinary powers.

If the AG refuses to grant permission for contempt, the matter shall end. There shall be no more deliberation regarding the particular case.