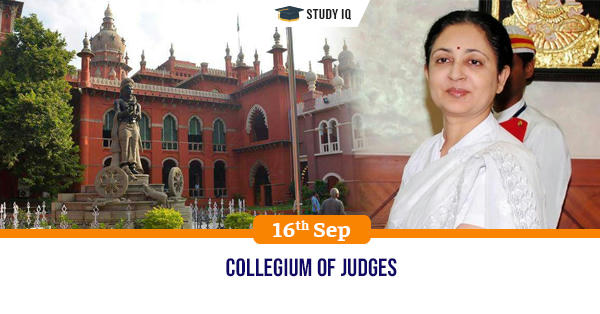 Collegium of Judges
Date: 16 September 2019
Tags: Judiciary & Judgments
Issue
The recent controversy over the transfer of the Chief Justice of the Madras High Court, Justice Vijaya Tahilramani, to the Meghalaya High Court has once again brought up the debate on the functioning of the 'Collegium' of judges that makes appointments and transfers in the higher judiciary.
Background
Justice Tahilramani had requested for a reconsideration of the decision of collegium but the collegium headed by the CJI has dismissed the request citing strong reasons for their decision. Questions have been asked regarding the method of appointment of the judges through the collegium.
Details
Collegium can be defined as a system under which judges are appointed by an institution comprising judges.

The Collegium of judges is the Supreme Court's invention. It is not mentioned in the Constitution.

The constitution says that judges of the Supreme Court and High Courts are appointed by the President and speaks of a process of consultation.
Background for Current collegium coming into existence
The First Judges Case (1981) ruled that the "consultation" with the CJI in the matter of appointments must be full and effective. However, it rejected the idea that the CJI's opinion should have primacy.

The Second Judges Case (1993) introduced the Collegium system, holding that "consultation" really meant "concurrence". It added that it was not the CJI's individual opinion, but an institutional opinion formed in consultation with the two senior-most judges of the Supreme Court.

The Third Judges Case (1998) expanded the Collegium to a five-member body, comprising the CJI and four of his senior-most colleagues.
Collegium Procedure
The President of India appoints the CJI and the other SC judges. As far as the CJI is concerned, the outgoing CJI recommends his successor who is the seniormost judge of the Supreme court according to convention. The Union Law Minister forwards the recommendation to the Prime Minister who, in turn, advises the President.

For appointing the judges of the Supreme court, the proposal is initiated by the CJI. The CJI consults the rest of the Collegium members, as well as the senior-most judge of the court hailing from the High Court to which the recommended person belongs. The Collegium sends the recommendation to the Law Minister, who forwards it to the Prime Minister to advise the President.

The Chief Justice of High Courts is appointed as per the policy of having Chief Justices from outside the respective States. The Collegium takes the call on the elevation as well as transfers.
Drawbacks of the system
Opaqueness and a lack of transparency, and the scope for nepotism are considered as a major issue in this process.

Majority opinions have asked for the need for transparency. In an effort to boost transparency, the Collegium's resolutions are now posted online, but reasons are not given.