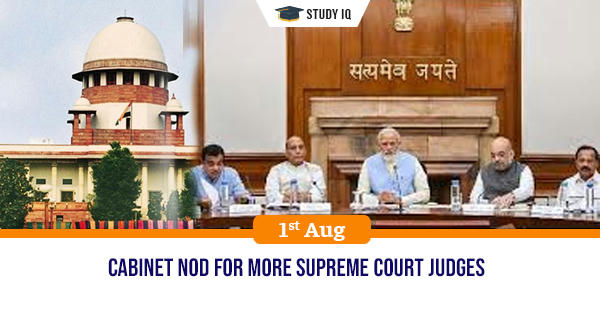 Cabinet nod for more Supreme Court judges
Date: 01 August 2019
Tags: Judiciary & Judgments
Context: Acting at the request of the Chief Justice of India, the Union Cabinet on Wednesday (31/07/2019) decided to increase the number of Supreme Court judges from 31 to 34.
About the strength of the Supreme Court:
At present

, the sanctioned strength of the court is 30, excluding the Chief Justice of India.

Once the Bill gets parliamentary approval

, the number of judges will go up to 33, excluding the CJI.

According to a written reply by the Law Ministry to a Rajya Sabha question on July 11, 59,331 cases are pending in the top court.
Request by the CJI to increase the strength:
Due to paucity of judges, the required number of Constitution Benches

to decide important cases was not being formed, the CJI wrote.
"You would recall that way back in 1988, about three decades ago, the judge strength of the SC was increased from 18 to 26, and then again after two decades in 2009, it was increased to 31, including the CJI, to expedite disposal of cases to keep pace with the rate of institution" he said in the request.